This issue is hard to contemplate since (I assume) most of you who read this site have a particular view about religion. Maybe you want to convince people God exists… or maybe you want to cure people of that irrational belief.
But what about people who just don't give a shit either way? Not self-described agnostics who have concluded you can't know whether or not god exists, but the people who choose not to think about the issue at all.
Cathy Lynn Grossman of USA Today has an article about those people in today's paper — the ones who don't get into religious debates, who may not have an opinion on the matter, or who have an opinion but prefer to keep it private.
I've referred to them before as "Apatheists":
Ashley Gerst, 27, a 3-D animator and filmmaker in New York, shifts between "leaning to the atheist and leaning toward apathy."

"I would just like to see more people admit they don't believe. The only thing I'm pushy about is I don't want to be pushed. I don't want to change others and I don't want to debate my view," Gerst says.

…

This trend may have been leaving subtle tracks for years.

The hot religion statistical trend of recent decades was the rise of the "Nones" — the people who checked "no religious identity" on the American Religious Identification Surveys (ARIS). The Nones numbers leapt from 8% in 1990 to 15% in 2008.

The So Whats appear to be a growing secular subset. The Pew Forum on Religion & Public Life's Landscape Survey dug in to the Nones to discover that nearly half said they believed "nothing in particular."
As much as I'd love to see more people take on the cause of many atheists — fighting against religious indoctrination, the merging of church and state, irrational thinking as a whole, etc. — I don't mind people who don't care at all.
With one caveat: As long as the Apatheists appreciate that many of us take the issue very seriously (and for good reason) and don't go out of their way to stop us from advocating our own positions, I don't care if they don't enter the arena of public discourse on the issue.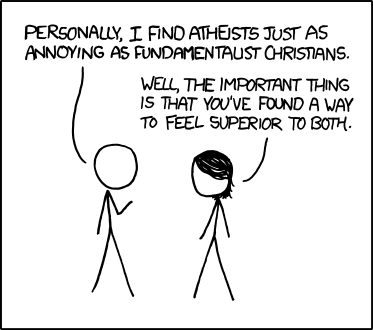 Of course, we'd be even better off if they didn't believe in god at all… but considering the alternative, I'd rather they just ignore the issue altogether than harbor some latent belief that "god is good."
It's weird for me to support ignorance (or active avoidance) of the issue, and I'm sure there are plenty of people who would rather see people care about religion (regardless of their beliefs) than to avoid the topic completely, but the Apatheists aren't the ones who give us trouble.
It's the vocal believers — the ones who proselytize, who try to change the laws to favor Christian ideals, who tell you you're going to hell if you don't agree with them — who are the problem. They're the ones we need to go after. If people don't want to join our side, then step outside the ring and let those of us with good arguments and strong convictions take control of the debate.