I wrote a couple of weeks ago about how LeeQuan McLaurin, a Liberty University graduate who spent years working as the school's "director of diversity retention," was one of the people who resigned due to the blatant racism of Jerry Falwell, Jr.
McLaurin even set up a fundraiser to help others leave Liberty after him.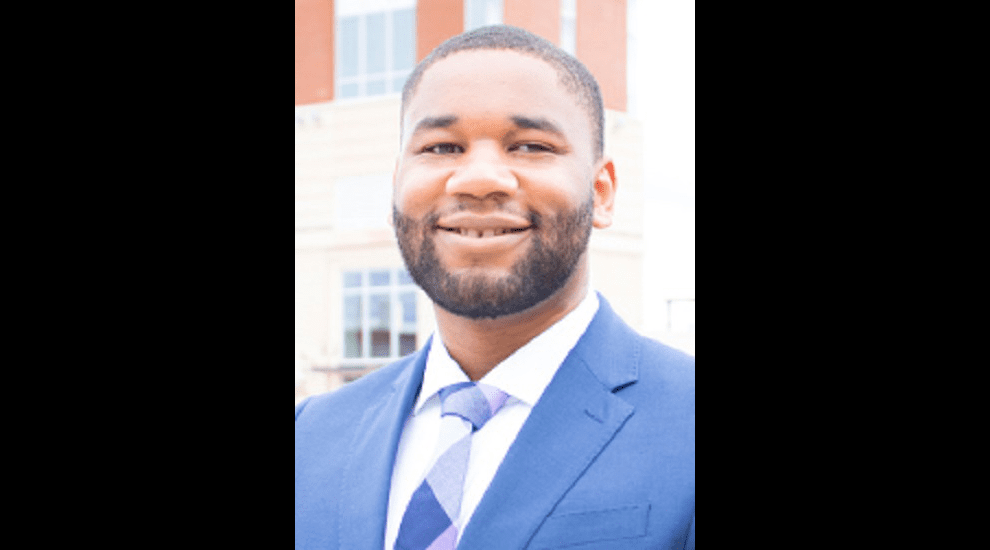 While most of the news stories about his departure focused on the exodus of Black students and staffers from Liberty, it turns out there's another aspect of his identity Liberty is also losing: He identifies as queer.
In a story for Religion News Service, Jack Jenkins writes about how McLaurin met a number of fellow gay students when he went there and felt the need to hide his orientation when he worked there.
Specifically, he joined "Armor Bearers," which McLaurin said was a run by a Liberty staffer and geared toward men who were described as "struggling" with their sexuality. He said the intent was to appeal to the divine for a spiritual and sexual transformation: Leaders allegedly suggested that the young male participants should remain celibate and then "hope for that heteronormative existence" that would be provided by God.

At least one other former Liberty student has publicly described the group, which is believed to still exist, as a form of conversion therapy, a practice that was declared illegal for minors in the state of Virginia — where Liberty resides — earlier this year.
Ironically, McLaurin says he met his college boyfriend through that organization.
Liberty, as you'd expect, espouses all kinds of toxic theology when it comes to LGBTQ issues. That began with the school's founder Jerry Falwell, who once said "the gays" caused 9/11 and that AIDS was God's way of punishing gay people. They continue through his racist son, who heads up a campus considered one of the worst in the country for LGBTQ students.
McLaurin hid his queer identity while working at Liberty, but he still tried to help gay students:
While still employed at Liberty, McLaurin helped launch a group called QueerSpace for LGBTQ students, which met off-campus. Members of the group, which McLaurin said hit around 40 at its peak, would gather in a local community space to play games, hang out, and watch RuPaul's Drag Race.

"We really tried to be there for them," he said. "I told them … if they run into issues, if they're being discriminated against, come to me."
That's all well and good, but it raises a concern that we've discussed on this site many times before: If you are gay and Christian and you believe those two things are compatible, why go to Liberty?
Some students don't have a choice; maybe their parents are paying for school. But some do and go there anyway. McLaurin certainly knew what he was stepping into when he accepted the job offer years ago. How naïve must people be to think they can change conservative Christian culture from the inside when the mere act of dating someone of the same gender could get them expelled?
Much like the Catholic woman who was fired from her ministry music position after nearly 30 years but remains a proud Catholic anyway, when will these people realize they belong to an organization that wants nothing to do with them?
No one's saying they need to give up their religion. But going to Liberty has nothing to do with their supposed salvation. By going to Liberty, by working for Liberty, by not complaining about the anti-gay culture at Liberty until he was already out the door, there's no incentive for Liberty to change. They have his money. They had his time. Falwell is still a despicable human being.
Unless gay Christians openly talk about why people should not attend Liberty, or unless they are willing to risk expulsion by fighting for relevant LGBTQ-related issues on campus, or unless they can convince alums to stop giving money to the school unless it changes its stance, or unless they realize their faith isn't worth keeping (that one's a long shot), there's no reason to think Liberty will get better. At every turn, Falwell makes things worse.
I can't imagine Falwell reading about McLaurin's sexual orientation and thinking he should've done more to keep him on staff. I wish that were the case, but Falwell doesn't have that kind of conscience.