With the Canadian election drawing ever closer, Conservative Party candidate Tamara Jansen hopes to become the Member of Parliament for British Columbia's Cloverdale-Langley City. Her campaign website describes the pillars of her campaign as "Family, Freedom, and Future." She positions herself as a local businesswoman who claims her experience running a plant nursery has taught her to trust "proven science."
And yet, according to PressProgress, Jansen is also a climate change denialist and Young Earth Creationist who believes evolution is a hoax.
So she's all about "proven science" unless…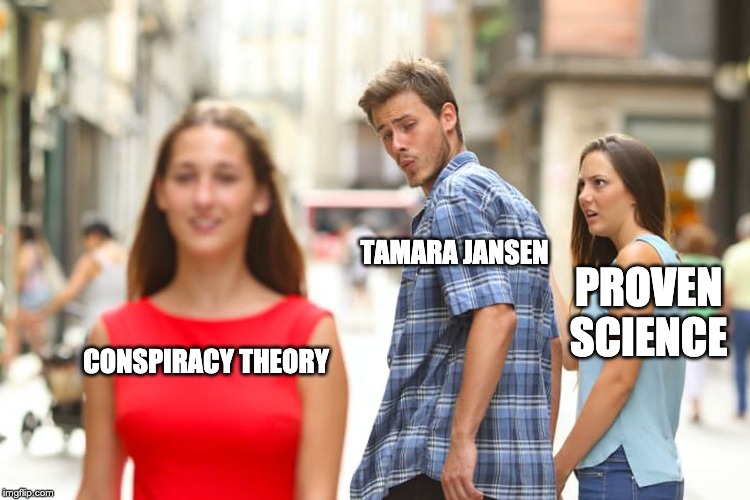 On multiple occasions, Jansen has approvingly shared Creationist blog entries with titles like "A Defense of Six-Day Creation" (which argues that the theory of evolution caused World War II) or "Christianity and Evolution: Bias, Fraud, and the Question of Compatibility" (which complains of scientists' "blatantly anti-Christian bias" and claims a "lack of definitive scientific evidence of evolution and an old earth").
These posts remain on her personal Facebook page:
So much for trusting science.
This inability to accept science when it conflicts with her religious beliefs spills over into the most pressing problem the human race currently faces: climate change. Jansen accuses reputable scientific organizations of "scare mongering" and dismisses their work as "environmentalist ideology."
In its own way, it makes sense: If you believe that scientists wear ideological blinders when it comes to the age of the planet, why trust them when it comes to climate science, especially when they warn that we need to make massive social changes to avoid catastrophe?
But a politician who brings these anti-science views to the legislature is scary if not dangerous.
And there's no doubt that Jansen's religious beliefs inform and dictate her political positions. She is a senior member of the Association for Reformed Political Action (ARPA), which exists in part "to bring a biblical perspective to our civil authorities." Their website states:
The state should protect the place of the church in society so that the church can do its calling which includes equipping its members to honour the state and to function constructively to God's glory within our democracy.
At last year's March for Life in Victoria, Jansen spoke publicly against abortion and euthanasia, and she has publicly participated in efforts to fight the availability of medically-assisted dying in hospice care.
Oh, and just for fun, her family business hosts a Dutch-influenced Sinterklaas celebration featuring white performers wearing blackface to play the traditional role of Zwarte Piet (Black Peter), a character the United Nations' Thematic Report of Negative Racial Stereotypes describes as "an expression of racism and discrimination… related to enslavement" that "reinforces the unequal power relations" associated with white supremacy.
The Conservative Party of Canada is pretty sure that's okay, though, since it's not as if Jansen herself was wearing blackface. (Yes, it's a not-so-subtle dig at Justin Trudeau.)
The suburban district of Cloverdale-Langley City has traditionally leaned Conservative, but they elected a Liberal Member of Parliament in the last federal election. Polls suggest that the Liberals retain a slight edge — 39% of the popular vote to the Conservatives' 36% — and that this will be a close race.
We can only hope reason prevails. And that proven science defeats "proven science."
(Screenshot via YouTube. Thanks to Lorne for the link)