An unnamed woman in Saudi Arabia could be sentenced to up to two years in prison for hugging a male singer while he was on stage.
بالفيديو – #السعودية.. فتاة منقبة تقتحم خشبة مسرح الطائف لاحتضان الفنان #ماجد_المهندسhttps://t.co/dc4oUceeyY pic.twitter.com/HESdyF7vlF

— جريدة النهارالكويتية (@naharkw) July 13, 2018
The woman, who was wearing a niqab veil covering everything but her eyes, is seen on a viral video storming on stage during a performance by Iraqi singer and composer Majid Al Mohandis (below). She was charged with breaking local laws against "harassment," but there's almost certainly another reason for the criminal charges.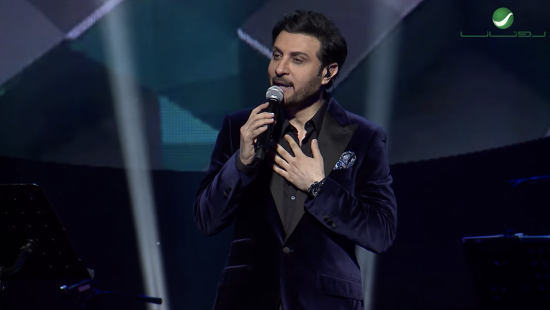 Majid al-Mohandis was performing at a festival in the western city of Taif when the woman darted on to the stage.

Videos posted online showed her holding on to Mr Mohandis while security staff tried to pull her off him.

Women in Saudi Arabia are not allowed to mix in public with men who are unrelated to them.
The woman was arrested earlier this month, but we're just now learning more details about the case. We now know, for instance, that she faces up to two years in prison and a fine equivalent to $27,000.
Al-Madina newspaper reported Tuesday the woman, whose name and age weren't given, was arrested earlier this month at a festival when Majid Al Mohandis, an Iraqi-born singer with Saudi citizenship, was performing his solo act.

The paper reports the woman acknowledges hugging Almohandis but argues she was incited to do so.
­­­­Saudi Arabia has been making small strides toward gender equality, recently allowing women to drive and attend certain sporting events at stadiums, but that's nowhere near enough. If anyone can get two years in prison for hugging a singer, something that's not unheard of in the U.S., then the problem remains.
In this case, though, it seems likely that security isn't the problem. A woman is being prosecuted in Saudi Arabia for touching a non-related man. That's the reality here, and that's not surprising in the least. In fact, it meshes with what we know about that country and its laws based on fundamentalist Islam.
The very rule the government is accusing the woman of breaking, the anti-harassment law that came into effect last month, is based on Sharia principles. The possible punishments, which include public lashing, are similarly based on fundamentalist Islamic writings.
Whilst harassment can be said to have long been unlawful under Islamic Sharia principles in the Kingdom (which adopts the Hanbali school of Islamic Sharia law), the new law strengthens the position regarding harassment and sets out clear penalties for violation of its provisions…

The law aims to protect an individual's dignity, privacy and personal freedom in accordance with Islamic Sharia rules and regulations.
This woman got excited when she saw her favorite singer and deserves some punishment for invading his privacy. But two years in prison and/or a "public lashing"? That's beyond the pale. I couldn't find a single case of this law being applied to men who excitedly hug women, and I'm guessing that won't ever happen in Saudi Arabia. Either way, this law is based on outdated religious concepts and should be abandoned.
(Screenshot via YouTube)