Zach Phelps-Roper, grandson of Westboro Baptist Church founder Fred Phelps, has left the church, making him the fourth of his ten siblings to walk away from the anti-gay hate group.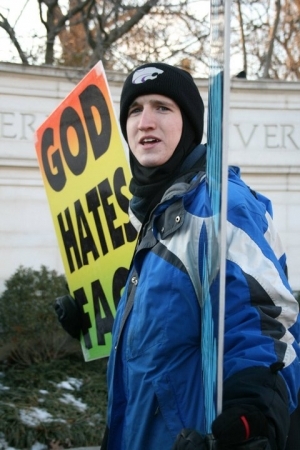 Aly Van Dyke of the Topeka Capital-Journal tells his story:
Nearly 11 weeks ago, on Feb. 20, Zach Phelps-Roper left the only life he has known. He has been picketing, he guessed, since he was 3 or 4 years old — as soon as he was strong enough to hold up a sign.

Since then, he has had limited contact with his parents. If he wants to get in touch with someone inside, he said, he has been directed to contact another member of the family, though he wouldn't disclose who.

Phelps-Roper said he harbors no ill will toward his family, understanding they are acting out of the same unshakeable beliefs in the Bible to which he once subscribed.

…

Phelps-Roper said he feels as though he is being called to a new mission, one to lead a charge of love, understanding and empathy to bring people happiness. He said he had particular compassion for those suffering from neuroticisms and suicidal thoughts because he experiences the same. Now that he understands how to help, he said, he "has no choice but to speak up," in an effort to save as many as he can.

"I still believe I'm being led by my creator here," Phelps-Roper said. "I'm just not sure what his name is. I am sure he is one who has unconditional love for his creatures."
The most important part of the article may be the mention of how gay people have been the "most loving and supportive people" he's met over the past several weeks.
Westboro is crumbling fast, my friends. I'm positive the exodus isn't over yet.