Below is a compilation of graphics and press releases released by various atheist, Humanist, and pro-church/state separation groups: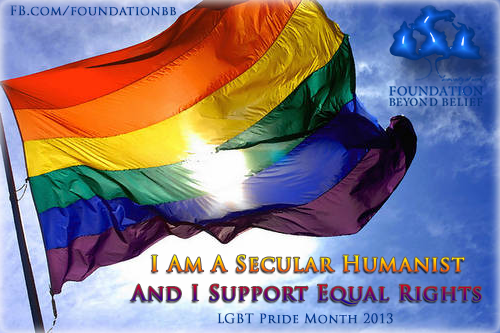 American Humanist Association:
"Today the Supreme Court wisely stopped the federal government from its practice of discriminating against loving couples on account of some politicians' religious bias," said American Humanist Association Executive Director Roy Speckhardt. "Now we turn our attention to the states that remain intolerant with an aim of eradicating institutionalized discrimination."

"The Supreme Court's DOMA decision made clear that the federal government cannot act to limit marriage rights granted by states out of animus against the class of persons they allow to marry," said Bill Burgess, attorney for the American Humanist Association's legal center. "This decision is an important step towards making real for same-sex couples the equality under the law that the Constitution intends for all Americans."

"We aren't done, not nearly done," said Jason Frye, coordination of the LGBTQ Humanist Council. "Changing legal architecture provides recourse against acts of discrimination. The Court rightly bolstered the bedrock for equality. What needs to also change are social attitudes. Now it is up to us to shape the social architecture toward justice and to further expand the atmosphere of its reach."
Secular Coalition for America:
Executive Director, Edwina Rogers, said the Coalition celebrates the Court's decision on DOMA, noting that the U.S. Constitution extends "equal protection of the law" to all citizens.

"Efforts to restrict same-sex couples from access to civil marriage are blatant attempts to insert religious beliefs into our secular government," Rogers said. "We applaud the Court's decision on DOMA and Proposition 8, but we recognize there is still a lot of work to be done throughout the country in ensuring that marriage equality is the rule for all."

…

The Secular Coalition has been a long-time supporter of marriage equality and an opponent of all theological definitions for civil contracts. The Coalition supports the repeal of all laws, including at the state level, that seek to define marriage as "one man, one woman."

…

"The decisions on DOMA and Prop 8 are very big and important battles won in a long war — despite the Court's ruling, in states across the country same-sex couples are still denied civil marriages based on religious ideology," Rogers said. "Laws like these treat same-sex couples inequitably and fly in the face of the very freedoms our Constitution provides us. The fight now turns to the states that refuse to treat same-sex couples equitably."
"The only objection to government recognition of gay marriage, to gay marriage at all, is clearly rooted in religion," said President David Silverman. "The religious can object until they're blue in the face, but America is not a theocracy, and religious bigotry has no place in American law. Our mission is separation of religion and government, and this is a day of great victory for us, for the future, for what it means to be an American. I am proud of America and of humanity today."

…

"This is a great day in American history," said Public Relations Director Dave Muscato. "It is absurd to me that it took this long to recognize such a basic human right as the freedom to marry, but I am proud of our country for doing the right thing. Same-sex marriage is not legal in every state yet, but this is a step in the right direction."
Americans United for Separation of Church and State:
"Civil marriage law should be based on principles of fairness, liberty and equality, not religious doctrine," said the Rev. Barry W. Lynn, Americans United executive director. "These decisions are important steps toward that goal.

"Religious Right groups and their allies are fighting a losing battle to impose their theology and moral views about marriage on everyone," he continued. "The decisions today are two more losses for their discriminatory agenda."
"As an organization grounded in the values of secularism and humanism, which recognize the intrinsic value of every person, we are delighted to celebrate these milestones in the struggle for full equality before the law for all citizens," said Michael De Dora, CFI's Director of Public Policy. "DOMA and Prop 8 were betrayals of the secular ideals set forth in our founding documents, relegating LGBT Americans to second-class status. The Court's rejection of these measures strongly reinforces the idea that religiously based attitudes on sex and marriage will not stand in the way of granting fundamental rights to anyone."
International Humanist and Ethical Union:
Sonja Eggerickx, president of the International Humanist and Ethical Union (IHEU) said: "This is tremendously important not just for LGBT rights in America but for the status of same-sex marriage around the world.

…

"This is why it is internationally important that the US has reversed its stance and redrawn the line. The vote may have been close, but the Court has sent a clear message that the love between same-sex couples does not belong in a different legal class, and that lower-tier conceptions of marriage for same-sex couples will not stand the scrutiny of justice."
Interfaith Alliance President the Rev. Dr. C. Welton Gaddy issued the following statement celebrating today's Supreme Court decisions:

The enormity of today's decisions cannot be overstated. The combined impact of these two rulings puts our nation further down the inevitable and proper path towards full marriage equality for the LGBT community. All Americans should rejoice in today's decisions because they bring us that much closer to fulfilling the promise of our Constitution. I am hopeful that today's decision striking down DOMA as unconstitutional and overturning the Proposition 8 case on standing will be followed by continued victories in this fight for equality. That a majority of the Court recognized in the DOMA case that this was an issue of equal protection denied is no small victory.

To those critics who will try to characterize these decisions as a threat to their religious freedom, let me say they could not be more wrong. No members of the clergy can be required to perform a religious ceremony that goes against the dictates of their faith, and thanks to the protections afforded by the First Amendment nothing in today's decisions changes that fact. Interfaith Alliance's work for LGBT equality is not finished and we will not be finished until all Americans are afforded the rights restored today for the people of California.
Freedom From Religion Foundation:
This is a great day for all Americans and for our godless Constitution. The secular ideal that all people are equal in the eyes of the law has triumphed. Progress is possible, even with this Supreme Court.

…

The LGBT movement worked tirelessly for today's victories. They provide wonderful motivation for our secular movement, for our freethinking movement. Today is a great day; let's savor the victory.
Though it is an incomplete victory, the ruling is still a landmark moment for civil rights. "As advocates for marriage equality, social justice, and freedom from religious ideology, we welcome this Supreme Court decision," said Secular Woman president Kim Rippere. "The attempt by politicians to legislate marriage is religious influence at the most basic level. It is pressuring citizens to conform with a passé definition of marriage based on religious traditions."
Humanist Unitarian Universalist Associations:
Although grateful for these developments, the HUUmanist Association will not be satisfied until same sex marriages can be contracted in every state in the land, until same sex marriages entered into in any state are recognized in all states, and until all of the other ways in which sexual minorities are marginalized throughout the country are repealed or struck down. Equality and justice for all.
[This post will be updated as more groups weigh in]