In 2012, there were no chaplains for atheists in the military while Christians had all they needed and then some: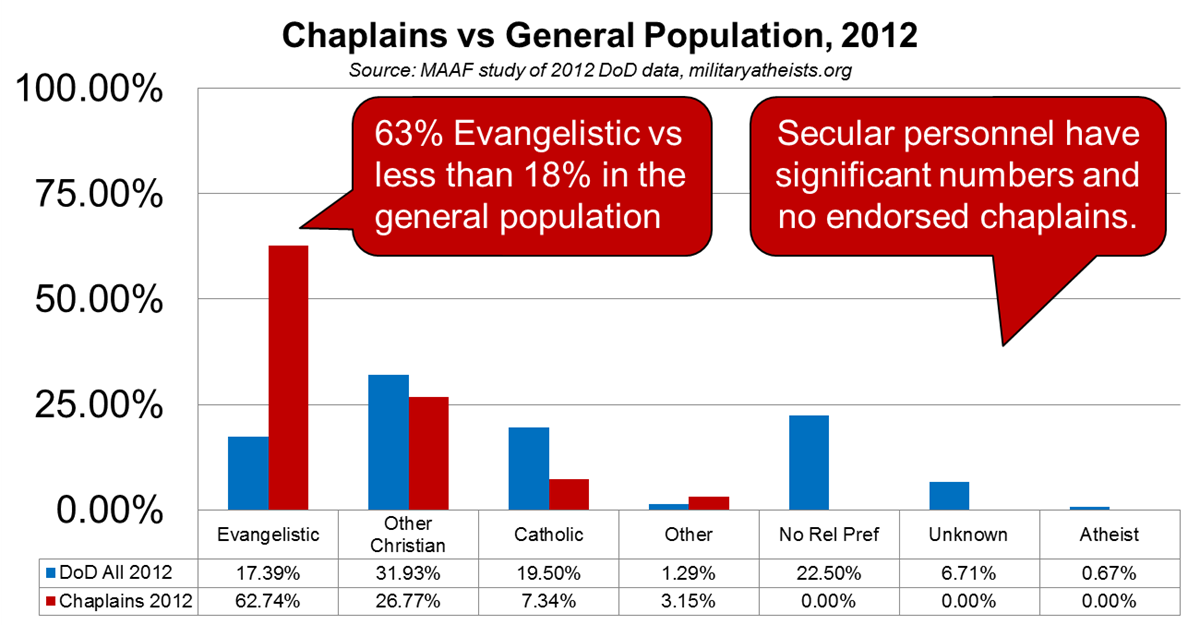 It's hard to understate how big a deal this is. Forget the terminology for a second — chaplains provide an important service and foxhole atheists, like everybody else, could use them:
Military chaplains, most of whom are Protestant Christians, are assigned many secular advising duties, including marriage, family and suicide counseling, [said Military Association of Atheists & Freethinkers President Jason] Torpy… They touch so many parts of service members' lives, he says, they can help improve what he sees as an environment of exclusion.

…

While some might wonder what role atheists could fill in the chaplaincy, Torpy says they would be able to do the same job as any other chaplain who assists someone with different beliefs.

"There are individuals that, they don't have those traditional religious perspectives, and some of those individuals want to serve as officers in the military," he says. "That's how they want to serve the nation, to do chaplain work, and they can do that in a way that Christians can't do it."
It's long overdue, but non-religious chaplains had a chance to be included in the Army Chaplains Corps thanks to Rep. Rob Andrews (D-NJ).
Yesterday, Andrews (an Episcopalian) suggested an amendment (PDF) to the 2014 National Defense Authorization Act that would bring Humanist, ethical culturist, or atheist chaplains to the military:
The Secretary of Defense shall provide for the appointment, as officers in the Chaplain Corps of the Armed Forces, of persons who are certified or ordained by non-theistic organizations and institutions, such as humanist, ethical culturalist, or atheist.
The Secular Coalition for America strongly supported this wording:
"Chaplains for nontheistic military service members are absolutely crucial for so many men and women who are serving our country," said Edwina Rogers, executive director of the Secular Coalition for America. "Religious chaplains are ill equipped to handle the problems of nontheistic service members and unfortunately, seeking psychiatric help can stigmatize a service member for the rest of their career."

…

"Military members sacrifice for all Americans — they fight of all of us regardless of our personal religious beliefs or lack thereof," Rogers said. "So why then should they be discriminated against on the basis of their beliefs? All they are asking for are the same accommodations made to other service members and they absolutely deserve it."
This was an amendment that no reasonable person would object to.
So, of course, Republicans objected to it:
"They don't believe anything," said Rep. Mike Conaway (R-Texas) "I can't imagine an atheist accompanying a notification team as they go into some family's home to let them have the worst news of their life and this guy says, 'You know, that's it — your son's just worms, I mean, worm food.'"

"This I think would make a mockery of the chaplaincy," said Rep. John Fleming (R-La.). "The last thing in the world we would want to see was a young soldier who may be dying and they're at a field hospital and the chaplain is standing over that person saying to them, 'If you die here, there is no hope for you in the future.'"
That's complete bullshit. Humanist chaplains would not be there to rip on religious people or their families. They would provide advice and counseling services for soldiers who already don't believe in God and need help that doesn't involve the supernatural. If a religious person needed help, that's fine, too. Trained chaplains know their job is to help people wherever they're coming from, not to proselytize and convert those people to the chaplain's faith.
Rep. Randy Forbes (R-VA) and Rep. Brad Wenstrup (R-OH), and Rep. Chris Gibson (R-NY) also spoke out against the amendment.
At least Rep. Adam Smith (D-WA) had the good sense to defend atheist chaplains:
… To say that an atheist or a humanist doesn't believe anything is just ignorant. They have very, very developed beliefs and value systems and there are many, many of them serving in the military, including [deceased atheist soldier] Pat Tillman!… The response to [Andrews'] amendment makes me feel all the more the necessity of it. So basically, if you are an atheist or a Humanist in the military, the military's response is 'We got nothin' for you. There's no hope for you.' [Atheists] believe in a system of values. And that system of values is worth as much to them as our Christianity is to us.
You can see the full debate here (from 2:00 to 18:25):
Immediately after the discussion, there was a voice vote on passing the amendment which you can see at the end of the video clip.
The GOP majority, in unison, yelled out "No!"
Rep. Andrews requested a roll call vote (taking place at 57:33) so people could get on the record as for or against the amendment.
Every single Republican member of the committee voted against it, as did Democrats Mike McIntyre (NC), Jim Cooper (TN), Del. Madeleine Bordallo (Guam), John Garamendi (CA), Carol Shea-Porter (NH), Dan Maffei (NY), Derek Kilmer (WA), William Enyart (IL), Pete Gallego (TX).
Democrat Rick Larsen (WA) did not vote.
After a final vote of 43-18, the amendment failed.
Humanist chaplains are still banned from the military thanks to a Congressional committee blinded by religiously-tainted glasses.