Jen Hancock, the author of the Handy Humanism Handbook, is working on a project called "Humanist Learning Systems" in which she will teach a number of online courses about applied Humanism, so to speak. The first course is "Living Made Simpler" and it begins May 1st.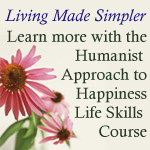 What will you learn?

How to:

Make better decisions through critical thinking
Improve your interpersonal relationships through compassion
Infuse your life with meaning and purpose through ethics

It turns out that when you combine all these different techniques into one approach, you create something that is truly transformative. This is why some of the most influential people in modern history were or are Humanists. You will be amazed at how much easier life is when you make being ethical a priority.
It's a bit of self-help, history, and psychology all rolled into one. And if you register now, 20% of the fee will be donated to the Humanists of Florida Association.
You can check out a more detailed description of the course, see a sample seminar, and register at Jen's site.