Back in July, we learned that Louisiana Governor Bobby Jindal passed a voucher plan that would give more than $11,000,000 of taxpayer money to private schools that teach Creationism. Their curriculums obviously wouldn't meet the state's science standards. You can read some of the curriculum excerpts from these schools here.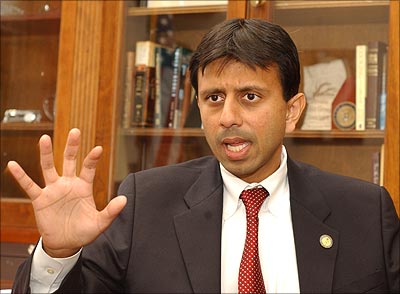 There's finally some good news to report on the matter.
On Friday, State District Judge Tim Kelley ruled that Jindal's voucher program was unconstitutional:
While the court does not dispute the serious nature of these proceedings nor the impact and potential effects on Louisiana's educational systems, vital public dollars raised and allocated for public schools through the [Minimum Foundation Program] cannot be lawfully diverted to nonpublic schools or entities.
The downside to that ruling is that it doesn't say the program is unconstitutional because it uses taxpayer money to promote religious garbage. The judge says it's unconstitutional because the program through which these schools are getting the funding is intended only for public schools.
Still, the effect would be the same; Creationism-teaching schools would lose out on public money.
Not surprisingly, Jindal isn't happy about it… it hurts his image with his Christian base:
Louisiana Governor Bobby Jindal, who had championed the program, called the ruling "wrong-headed" and "a travesty for parents across Louisiana who want nothing more than for their children to have an equal opportunity at receiving a great education."

Jindal, a Republican, vowed to appeal.

…

About 5,000 students are currently receiving the vouchers, which cover tuition and fees at scores of private and parochial schools, including some small church-based schools that infuse all their classes with Biblical references and do not teach subjects such as evolution.
Note to Jindal: Parents across Louisiana already have the opportunity to give their students a great education. Stop trashing your state's public schools. They would get even better if you weren't taking funding intended for them and using it to promote your illegal pet projects.
National School Boards Association President C. Ed Massey agrees:
"It is clear this law was not created with the best interest of all children in mind; instead it promotes a narrow political agenda and will harm community public schools that serve the best interest of all children," Massey said. "It also deprives the public schools of valuable resources that are necessary to carry out the mandate to provide a free and appropriate public education."
(via Joe. My. God.)