It no longer seems newsworthy that the Freedom From Religion Foundation put their Winter Solstice message in the Wisconsin Capitol building yet again…
"At this season of the Winter Solstice, may reason prevail.
There are no gods, no devils, no angels, no heaven or hell.
There is only our natural world.
Religion is but myth and superstition that hardens hearts and enslaves minds."

…

So many Gods, so many creeds,
So many paths that wind and wind,
When just the art of being kind
Is all this sad world needs.

Ella Wheeler Wilcox
… however it might be worth pointing out that there's now a "natural nativity scene" nearby, too 🙂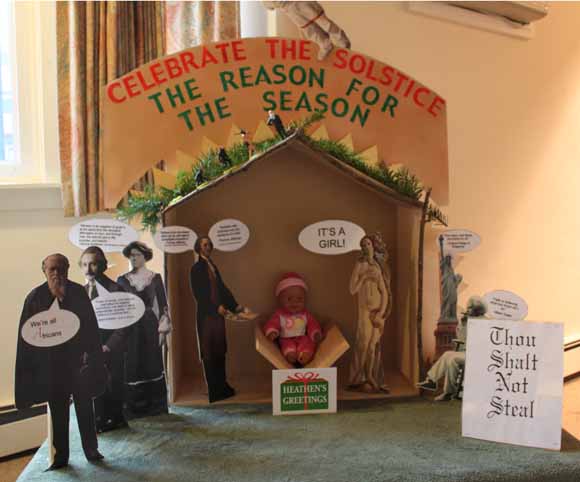 Today also marks the second coming of FFRF's "natural nativity scene," which was unveiled last year to recognize the rebirth of the Unconquered Sun — Dies Natalis Invicti Solis — not baby Jesus. The display celebrates the human family, reason and the Winter Solstice. It was placed last year after a religious right group put up a devotional nativity scene for the first time in the Capitol.
If you can't identify all the people in the scene, there's a helpful guide right here.
I'm sure FOX News will commence complaining by the end of the day.