As the election results come in across the country, I will be following and reporting on how voters decide on same-sex marriage in Maine, Maryland, Minnesota, and Washington. I'll also be reporting on the last-minute campaign efforts here in Washington while I volunteer with Washington United for Marriage.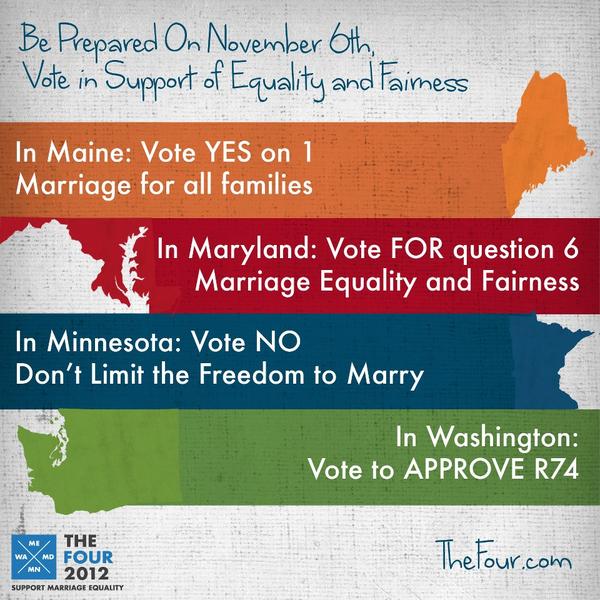 To give you some background, the L.A. Times has summed up nicely what's happening in each state:
In three of those states — Maine, Maryland and Washington state — courageous legislatures passed bills in favor of same-sex marriage. In both Maryland and Washington, the bills were signed into law earlier this year but were placed on hold when opponents forced referendums that will ask voters whether they, also, approve of allowing the states to issue marriage certificates to gay and lesbian couples.

In Maine, the law was approved in 2009, then overturned by referendum. The issue is back on the ballot in the hopes that voters will reverse themselves and approve marriage equality. In Minnesota, it is already prohibited; voters will decide whether to embed that ban in the state constitution.
Stay tuned throughout the evening to hear how things went. Polls will close first in Maine and Maryland on the East Coast, then Minnesota, then finally here in Washington.
---
Maine's Question 1:
Twitter: @MainersUnited
Ballot Language:
Do you want to allow the State of Maine to issue marriage licenses to same-sex couples?

[ ] Yes
[ ] No
How people should vote: Vote Yes!
The Results (90% reporting):
Yes – 53% (346,585) ✓
No – 47% (310,228)
UPDATED @ 11:30pm PST Wednesday
The networks are calling this a victory for marriage equality in Maine!
---
Maryland's Question 6:
Twitter: @MD4Equality
Ballot Language:
Question 6
Referendum Petition
Civil Marriage Protection Act (Ch. 2 of the 2012 Legislative Session)

Establishes that Maryland's civil marriage laws allow gay and lesbian couples to obtain a civil marriage license, provided they are not otherwise prohibited from marrying; protects clergy from having to perform any particular marriage ceremony in violation of their religious beliefs; affirms that each religious faith has exclusive control over its own theological doctrine regarding who may marry within that faith; and provides that religious organizations and certain related entities are not required to provide goods, services, or benefits to an individual related to the celebration or promotion of marriage in violation of their religious beliefs.

[ ] For the Referred Law
[ ] Against the Referred Law
How people should vote: Vote FOR!
The Results (99% reporting):
For – 52% (1,258,952) ✓
Against – 48% (1,156,578)
UPDATED @ 11:30pm PST Wednesday
The networks are calling this a victory for marriage equality in Maryland!
---
Minnesota's Amendment 1:
Twitter: @MN4allfamilies
Because same-sex marriage is already banned, this is a redundant effort on the part of opponents of marriage equality. The good news is that it must pass by 60% of registered voters, not just voters who turn out in this election. Those who don't vote on this amendment are counted as a "No" vote.
Ballot Language:
Limiting the status of marriage to opposite sex couples.

"Recognition of Marriage Solely Between One Man and One Woman."
[ ] YES
[ ] NO
How people should vote: Vote NO!
The Results (99% reporting):
No – 51% (1,507,915) ✓
Yes – 48% (1,402,141)
UPDATED @ 11:30pm PST Wednesday
The networks are calling this a victory for marriage equality in Minnesota!
---
Washington's Referendum 74:
Twitter: @WA4Marriage
Ballot Language:
Passed by the Legislature and Ordered Referred by Petition Referendum Measure No. 74

The legislature passed Engrossed Substitute Senate Bill 6239 concerning marriage for same-sex couples, modified domestic-partnership law, and religious freedom and voters have filed a sufficient referendum petition on this bill. This bill would allow same-sex couples to marry, preserve domestic partnerships only for seniors and preserve the right of clergy or religious organizations to refuse to perform, recognize, or accommodate any marriage ceremony.

Should this bill be:

[ ] Approved
[ ] Rejected
How people should vote: Vote to APPROVE!
The Results (66% reporting):
Approved – 52% (1,104,025)
Rejected – 48% (1,020,812)
UPDATED @ 5:00pm PST on Thursday
---
UPDATE (5:06pm PST) Not related to our elections but Spain's highest court just reaffirmed that marriage equality is completely constitutional!
UPDATE (7:29pm PST) Polls close in 30 minutes here in Washington and we're still calling voters! We're still working to help voters get their ballots in.
UPDATE (8:00pm PST) We made over 116,000 calls in Washington United For Marriage phone banks just today. 🙂
UPDATE (8:14pm PST) Moved to the Ballroom where the after party is. This room went insane when Obama was declared the winner.
UPDATE (12:30am PST) Finally home! I'm so sorry I wasn't able to blog past about 9p. The wifi in the room we were in was terrible and only got worse. (Thanks, Hemant, for helping fill in the gap!) I'm pretty exhausted at this point. I've been up since 3am and am only just now eating dinner. As spent as I feel, it feels so insignificant compared to what we accomplished tonight. Maine and Maryland are confirmed in our favor. The constitutional amendment to ban same-sex marriage in Minnesota is no where near the 60% required to pass. And although they're taking the conservative route and not calling it for the Ref. 74 campaign, I can say with great certainty that we did it! The remaining votes that will come in are highly likely to skew in our favor; the late voters always lean heavily towards the progress side in Washington. That means our lead is likely to increase. I can't tell you how filled with joy this makes me.
Just as I expected, I cried tonight. I always cry at weddings and tonight was like the joy of 100,000 weddings. All of my friends in WA can get married now. Just typing that brings tears to my eyes; it's such a big deal, such a beautiful reality! I'll write more tomorrow along with updating the results. But for now, I'm going to finish my dinner and get to bed. Thank you to all who voted for love and to all of the amazing volunteers and staff who made this night happen. We did it; we made history.
UPDATE (11:30pm PST Wednesday) King County has already updated their website about allowing same-sex marriage. Marriage licences will be available on Dec. 6th.