Last year, Henderson County officials (in Texas) put a nativity scene on the courthouse lawn.
Believing that to be unconstitutional, the Freedom From Religion Foundation requested that one of their displays join the nativity scene — or county officials could remove the Nativity Scene altogether. There was a huge rally in which about 5,000 local Christians showed up in support of Jesus because he was apparently under attack from those damned atheists:
County officials eventually put the FFRF's banner up… for a few minutes. Then they took it back down. It was chaos all around.
FFRF is taking a much more proactive approach this time around. Earlier this year, they submitted a formal request to put up this banner on the courthouse lawn:
This week, Henderson County officials rejected their application:
"We did not feel that the banner was consistent with the theme of Christmas and our decorations that we have enjoyed for many years," says Henderson County Judge Richard Sanders.

Henderson County Officials say none of their holiday decorations consist of banners or anything with words on it.

"We did take into consideration what type of decoration, or display, they had to offer. We did ask them questions about if they had alternative Christmas decorations or displays and the response we got was 'no'," says Henderson County Attorney Clint Davis.

In a matter of weeks, the Nativity scene display will sit on the courthouse lawn where pumpkins and hay bales are now. The other three corners of the courthouse lawn will adorn secular decor, but the Freedom From Religion Foundation says Henderson County is still violating the constitution.

…

"When you look at our overall objective here, which is to make our courthouse square appealing, attractive, inviting to the public… it was Judge Sanders' opinion at the end of that process and at the end of our evaluation… that the banner they had offered did not accomplish this goal," says Davis.
So, let's recap: This, to Henderson County officials, is perfectly acceptable, appealing, and inviting to all: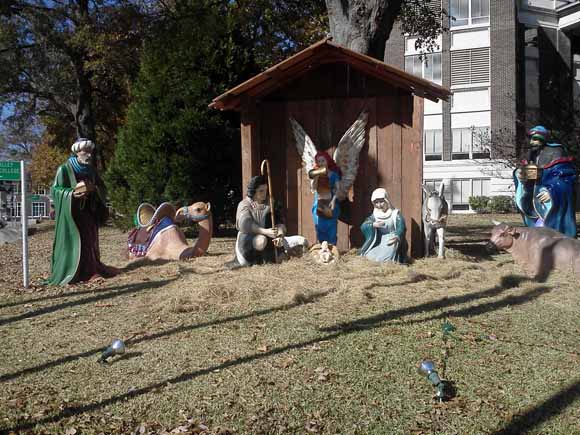 FFRF isn't buying that:
"Henderson County is not a 'Christian county,' Athens is not a 'Christian town,' Texas is not a 'Christian state' and the United States is not a 'Christian nation.' Majority does not rule over matters of personal conscience. A county government should not be taking sides in religion, or promoting or endorsing Christianity over other religions, or religion over nonreligion," Gaylor added.

"When the county hosts at its seat of government a manger scene proclaiming the legendary birth of Jesus as the messiah, it is unlawfully placing government behind Christianity, at the expense of non-Christians and nonbelievers," she added.
FFRF is currently weighing their legal options. I hope they file a lawsuit. And I hope other non-Christian religious groups offer their own banners and displays for the courthouse lawn. It may not be bad PR for local officials to deny the atheists their space — but once they start rejecting Hindu, Muslim, Jewish, and Scientology displays, maybe people will start paying attention to the whole notion of church/state separation.