After Illinois began allowing civil unions last year, the Catholic Charities groups in the state (which handled foster children) were worried that they would have to put kids in the homes of gay or lesbian couples (oh, the horror!). But since they received taxpayer money for their work, they had no right to discriminate. So instead of doing the right thing for the children, they opted to shut down altogether.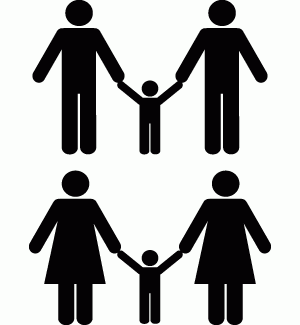 The state was fine with that. In fact, they didn't even bother to renew its foster care and adoption contracts with any of the Catholic Charities groups.
At the time, the Catholic leaders complained that by not allowing them to discriminate against gay and lesbian parents, the state — the state! — was doing a disservice to the children.
So why bring this up now?
Because there are new players in the adoption and foster care business in Illinois and all the children under Catholic care in the past have been transferred without a problem.
In other words, the children are fine and the Catholics can't be bigots with taxpayer funding. Wins all around!
The State Journal-Register based in Springfield has more:
"I'm glad to say in the process of transferring Catholic Charities' contracts to other private agencies, no children were removed from homes, no foster families lost, as had been predicted," DCFS spokesman Kendall Marlowe said.

Foster care cases in the Springfield area are now divided between Lutheran Child & Family Services of Illinois, which has handled area foster care cases since the early 1990s, and The Center for Youth & Family Solutions, which acquired the cases formerly overseen by Catholic Charities for the Dioceses of Springfield and Peoria.
Let this be a lesson to Catholic Charities: You can be bigots all you want, but the taxpayers don't have to support your screwed-up beliefs. We'll get by just fine without you.
(Thanks to Don for the link!)