In the wake of a mass shooting like the one in Aurora, Colorado this morning, it seems like the obvious response should be to keep the victims in your thoughts and not jump to any conclusions about who the murderer was and what his motives were until that information becomes available.
In other words, don't be Rep. Louis Gohmert (R-TX), who went on a radio show this morning and blamed the shootings on our nation's increasing godlessness: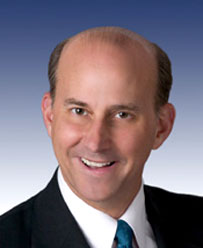 Ernest Istook, the host of the show and a former Oklahoma congressman, jumped in to clarify that nobody knows the motivation of the alleged Aurora gunman. Gohmert said that may be true, but suggested the shootings were still "a terrorist act" that could have been avoided if the country placed a higher value on God.

"People say … where was God in all of this?" Gohmert said. "We've threatened high school graduation participations, if they use God's name, they're going to be jailed … I mean that kind of stuff. Where was God? What have we done with God? We don't want him around. I kind of like his protective hand being present."
It's beyond me to imagine how anyone could take a tragedy and turn it into a self-serving sermon. I'm also baffled by his logic that says this sort of crime would stop happening with more guns and not fewer. Who votes for someone like that? Shirley McKellar is trying to unseat him in the upcoming election. If voters have any heart, they'll throw their support her way.
…
At the Christian Post, Pastor Michael Greiner took a similarly despicable approach, saying that, yes, 12 people were killed in the Colorado shooting… but abortion is legal in America, so we're all killers:
James Holmes did this because he is a normal man. We will say that he went nuts, and of course he did. But nuts in a very human manner. James Holmes killed those people because humans kill people. That's what we do. We are murderers. We kill.
Because taking the morning-after pill is just like walking into a theater and shooting people at will.
…
***Update***: The American Humanist Association has released a statement condemning Gohmert's comments:
"Rep. Louis Gohmert truly tortures logic when he concludes that this violence had something to do with perceived attacks on majority faith in America," said Roy Speckhardt, executive director of the American Humanist Association. "At a time when families are mourning in the wake of this tragedy, Gohmert used it as an opportunity to push a religious agenda."

…

"Our condolences go out to the victims and families of the Colorado movie theater shooting," Speckhardt continued. "In the aftermath of this terrible event, we hope that communities can work together, using reason, to prevent such tragedies in the future. Rep. Gohmert's overt religious pandering has no place in the wake of tragedy like this."