Republican Rep. Louis Gohmert is taking well-deserved heat for suggesting that taking God out of school is the reason James Holmes killed people in a movie theater in Colorado: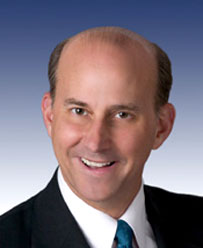 "People say … where was God in all of this?" Gohmert said. "We've threatened high school graduation participations, if they use God's name, they're going to be jailed … I mean that kind of stuff. Where was God? What have we done with God? We don't want him around. I kind of like his protective hand being present."
As details are being released about the killer, one friend noted an interesting coincidence. Holmes graduated from Westview High School in California.
That happens to be the same school where Bradley Johnson teaches math. Johnson, if you recall, is the teacher who thought it was a good idea to hang these banners in his classroom:
In God We Trust
One Nation Under God
God Bless America
God Sheds His Grace On Thee.

…

All Men Are Created Equal, They Are Endowed By Their CREATOR
I'm not at all suggesting there's a link between the two. I don't even know if Holmes had Johnson as a teacher.
I am saying this: If Gohmert believes this tragedy happened because God was taken out of the schools, it's worth noting that Holmes graduated from a high school where a teacher had those godly banners in place. Christian Right groups supported that teacher during his case because they wanted "God" to remain there.
If you believe there's a link between religion in schools and how the students do later in life, here's even more proof that you're wrong.