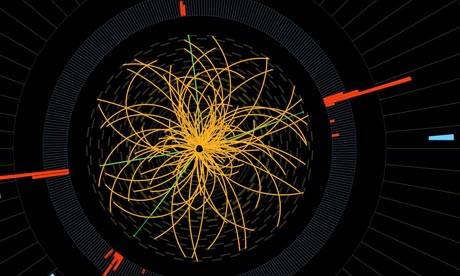 Science is a tremendous human universal. The discovery of the Higgs boson(-like particle) was a win for scientists everywhere and will lead to the continuation of awesome physics in the future. Physicists in Canada aren't rejecting the discovery just because it happened in Switzerland or was theorized in America, because that would be ridiculous.
But apparently not too ridiculous for Pakistan's Sunni Muslim extremists.
Adbus Salam, a Pakistani Muslim, won the Nobel Prize for Physics in 1979 along with Sheldon Glashow and Steven Weinberg for their contributions to the Standard Model of particle physics. His findings helped unify the electromagnetic and weak nuclear forces, once thought separate. He was both the first Muslim and the first Pakistani to win the Nobel Prize. Pakistan should be celebrating his incredible work in light of the recent victory of the Standard Model.
Instead, the Guardian reports that,
Adbus Salam, who died in 1996, was once hailed as a national hero for his pioneering work in physics and his contribution to Pakistan's nuclear programme. Now his name is stricken from school textbooks because he was a member of the Ahmadi sect that has been persecuted by the government and targeted by Taliban militants, who view them as heretics.
The treatment of most religious minorities in Pakistan, like Shiite Muslims and Hindus, is atrocious, but the Ahmadi sect is the recipient of particularly bad discrimination.
Salam's life, along with the fate of the 3 million other Ahmadis in Pakistan, drastically changed in 1974 when parliament amended the constitution to declare that members of the sect were not considered Muslims under Pakistani law…

All Pakistani passport applicants must sign a section saying the Ahmadi faith's founder was an "impostor" and his followers are "non-Muslims". Ahmadis are prevented by law in Pakistan from "posing" as Muslims, declaring their faith publicly, calling their places of worship mosques or performing the Muslim call to prayer. They can be punished with prison and even death.
It's always sad to see religious extremists deny the importance of science, but it's especially unfortunate in this case, since he was right about the fundamental way our universe functions, and he deserves the recognition of being in textbooks all around the world, especially his home country of Pakistan.