Ellwood City (in Pennsylvania) thinks it has a perfect plan for how to handle holiday displays this year. They want to find a legal way to put a Nativity Scene in City Hall, so they're proposing a "lottery" system. Local residents can apply — I'm sure they assume Christians will flood the system with applications — and whoever gets picked gets to decide what goes up in City Hall!
They're not even being subtle about what they think will happen:
"We're all assuming that the winner of a lottery would put up a creche," said [council president Anthony] DeCarbo…
So this is where you come in.
This Monday (July 16th at 6:00p), the Ellwood City Council will vote on this proposal. We need to let the council know that we plan to flood the application pool with atheist displays/banners.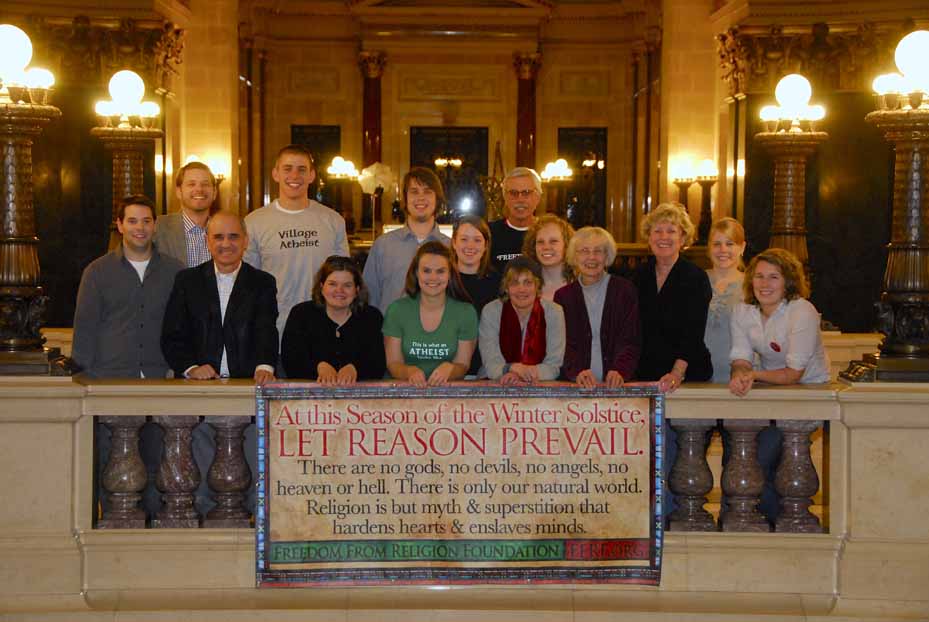 The Freedom From Religion Foundation has a list citing many of the problems with the current "lottery" plan:
1. If Ellwood City goes to a lottery system, atheists, agnostics, and freethinkers will enter the lottery to put up a display of our choosing. You may want to mention what your display will be. This is what happened in Santa Monica, Califronia where the city recently ended December displays in parks after atheists won 18 of the 21 lottery spots.

2. This is clearly an attempt to renege on their promise to move the nativity to private property. The "Nativity Committee" is quite obviously trying to get the nativity displayed on public property and censor any other speech, especially that of FFRF.

3. Ellwood City cannot escape its history and the statements of its mayor and council members claiming that their only goal is to keep the nativity on public property.

4. Allowing only one display on government property — selective access — does not make the nativity display private speech. Any nativity erected in that spot will still be a government endorsement of religion in violation of the Establishment Clause.

5. Our First Amendment right to free speech does not depend on where we live. Ellwood's scheme to allow preference for locals is likely unconstitutional.

6. There are more than 20 churches within two miles of the municipal building that host the nativity. Many have offered to display the nativity.
Remember: The ultimate goal is not to push our beliefs onto anybody else. It's to keep church and state separate — and the best way to do that is for the City Council to vote against a plan that includes a religious/non-religious display.
So please show up at the meeting if you're in the area and let them know you're an atheist and you plan to enter the lottery. Scare the hell out of them. (Literally?)
If you can't go, you can email the City Council members who currently support the lottery system and let them know (politely) why you think it's a bad idea.
Right now, the vote seems to be 4-3 in favor of the lottery system. We need to change one mind.