***Update***: For some reason, the bulk of this article got cut off earlier today. Here it is in its entirety.
…
So this is the punishment for pissing off Warren Jeffs' polygamy-friendly Fundamentalist Church of Jesus Christ of Latter Day Saints: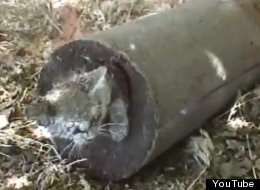 The kitten was discovered at the home of Isaac Wyler, a former church member, who has spoken out against the church and its controversial former leader Warren Jeffs…

…

Andrew Chatwin, who, like Wyler, is a former member of the FDLS, found the cat inside one of a metal tube used to construct cement posts, according to RightThisMinute.com.

In order to rescue the cat, Chatwin had to cut the post and dig out the footing. He took the feline to an animal sanctuary in Kanab, Utah, where it died a few days later.

Chatwin, who left the FLDS 13 years ago, believes the cruel act was done by members of his former church. He claims both the threats and the animal killings have been going on for years.
This is messed up. And the authorities won't do anything about it. When Chatwin called them up, the officer on duty (a member of the FLDS) just laughed.
But it's not very surprising. This is the mindset of these fundamentalists. If they can show their power in any way — prove that they're dominant — they will use that opportunity. It doesn't matter if it's women, children, or animals. Hell, this this isn't just animal cruelty, it's a form of terrorism — killing one creature to scare all the others.
Something else to think about: How many of these crimes don't ever get reported because church members are too afraid of the repercussions?
Even though he's not a fundamentalist, it makes me rethink how Romney drove a long distance with his dog strapped to the roof of his car…
Anyway, the Cleveland Skeptics are trying to raise $1,000 for homeless and neglected animals in response to this. You can pitch in here!