Radio host Bryan Fischer received a very interesting email yesterday from an anonymous listener who had, in Fischer's own words, "a brilliant, brilliant idea."
We talk frequently on this program about how people who have an active, vibrant spiritual life are healthier. They live longer, they are healthier, and they are happier. Their physical health is better. We have read numerous stories where even medical professionals attest to the power of prayer in quickening healing for people.*
So this listener says "Hey! What we ought to do is we oughtta have an individual mandate from the government that everybody has to go to church." Because after all Obamacare is all about improving the health of the American people. We know that going to church is good for you, it's good for your health so we are going to mandate that you go to church for your own health and we are going to tax the atheists who don't go to church. Now, we can't make you go to church, but we are going to penalize you if you don't, we're going to asses a tax on every atheist that doesn't go to church because those atheists are endangering their physical health. That is actually a brilliant, brilliant suggestion.
Wow. So much to wade through here.
To start, yes there have been studies that found that people who attended church regularly seemed to live longer than those who don't — though the article conceded that it could be chalked up to "the group interaction, the world view or just the exercise to get out of the house."
However, there is a huge leap from saying "Maybe this tip might improve your health" to "You all have to do this!"
Let's explore why, shall we?
First, obviously the government cannot tell us we have to go to church. That was pretty important to the founding fathers, seeing as they put it right there in the First Amendment.
Second, that little poke at Obamacare? That's not going to fly. Because if someone gets hit by a bus, do you think the ambulance is bringing them to the hospital or the church?
Third — my personal favorite — "We are going to tax the atheists who don't go to church." Well, what about the atheists who do go to church? For example, would Hemant have been exempt for the year he went to church? Or how about the atheists who aren't out yet? What about the kids who still live with their parents and go to church with them but don't believe? Or the adults who go on Christmas and Easter to appease their families?
What about the religious folks who call themselves "spiritual" but don't attend church or who haven't found a church that works for them?
And, most importantly, is that really what you want, Fischer? Do you want a bunch of non-believers to be herded into your pews every Sunday to stare at the pastor with a glazed-over expression, constantly looking at their phones to figure out how much longer they have to be there? And that's if you're lucky! Imagine a bunch of skeptics showing up at your church on Sunday calling B.S. on every sermon or passage that is quoted: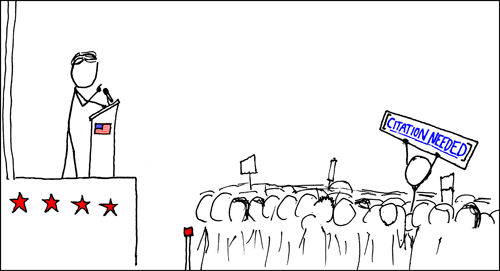 I think it's extremely evident that Fischer didn't think this through. Which isn't surprising, given all of his other statements.
Oh, also — does anyone else think that maybe that initial letter was a Poe?