It's not unusual to support an organization with which you don't always agree. It is entirely normal to pick the party that most closely aligns with your views and tolerate the other positions they hold. However there is something downright strange about supporting a party that expresses deep antipathy towards who you are.
Such is the plight of atheist Republicans.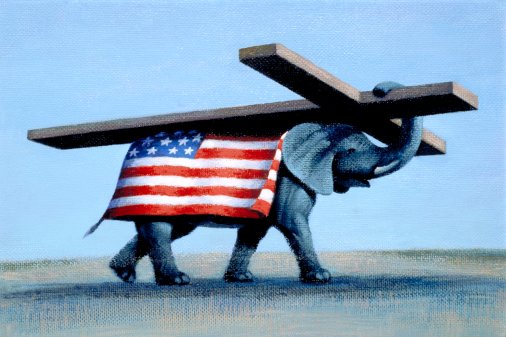 Mind you, I'm not saying there's anything strange about being an atheist conservative, or at least an atheist fiscal conservative. Belief in limited government, low taxes, strong defense, a hard line on immigration, and any number of other conservative beliefs are 100% compatible with atheism. It's normal that such atheists wouldn't dream of voting Democratic. That was essentially the argument made by the Secular Coalition for America's Executive Director Edwina Rogers.
However, to identify as an atheist Republican is to identify with a party that shows open hostility both to you and to secularism in general.
There are innumerable examples of this hostility, but a very easy way to see it is by reviewing the official party platforms.
The national GOP Platform states:
We support a human life amendment to the Constitution, and we endorse legislation to make clear that the Fourteenth Amendment's protections apply to unborn children.
We affirm every citizen's right to apply religious values to public policy and the right of faith-based organizations to participate fully in public programs without renouncing their beliefs, removing religious objects or symbols, or becoming subject to government-imposed hiring practices.
To protect our servicemen and women and ensure that America's Armed Forces remain the best in the world, we affirm the timelessness of those values, the benefits of traditional military culture, and the incompatibility of homosexuality with military service.
So zygotes are people, Catholic charities should be able to get federal money while refusing service to divorcees, and, of course, icky gays can't be good soldiers.
These are not accusations I'm levelling at the GOP. These are official positions taken by the national party. State by state, things are not much better. A few examples:
California: We support the two-parent family as the best environment for raising children, and therefore believe that it is important to define marriage as being between one man and one woman. We believe public policy and education should not be exploited to present or teach homosexuality as an acceptable "alternative" lifestyle. We oppose same-sex partner benefits, child custody, and adoption.
Virginia: That faith in God, as recognized by our Founding Fathers is essential to the moral fiber of the Nation.
And then, there's the soul of the GOP, that big bag'o'crazy that is the Republican party of Texas.
Here are 3 of the 11 principles of the party:
The sanctity of human life, created in the image of God, which should be protected from fertilization to natural death.
Self-sufficient families, founded on the traditional marriage of a natural man and a natural woman.
"The laws of nature and nature's God" as our Founding Fathers believed.
And later:
We urge amendment of the Internal Revenue Code to allow a religious organization to address issues without fear of losing its tax-exempt status.
Entire pages could be filled with the astonishing words of this particular party plaform. Here are just three examples:
The Rights of a Sovereign People — The Republican Party of Texas supports the historic concept, established by our nations' founders, of limited civil government jurisdiction under the natural laws of God, and repudiates the humanistic doctrine that the state is sovereign over the affairs of men, the family and the church.
Homosexuality — We affirm that the practice of homosexuality tears at the fabric of society and contributes to the breakdown of the family unit. Homosexual behavior is contrary to the fundamental, unchanging truths that have been ordained by God, recognized by our country's founders, and shared by the majority of Texans.
Safeguarding Our Religious Liberties — We affirm that the public acknowledgement of God is undeniable in our history and is vital to our freedom, prosperity and strength. We pledge our influence toward a return to the original intent of the First Amendment and toward dispelling the myth of separation of church and state…
Again, I understand, even if I do not share, the idea of nonreligious conservatism. What I fail to understand is how one can support a party that considers you their enemy. Can any atheist Republicans shed some light on this?