You would think officials from Ellwood City (in Pennsylvania) would have learned their lesson by now…
Last year, they allowed a Nativity Scene — and nothing else — to be displayed in the Municipal Building. It was a clear endorsement of Christianity. When they started to see legal challenges come their way, they allowed other groups to submit their own displays. FFRF obliged.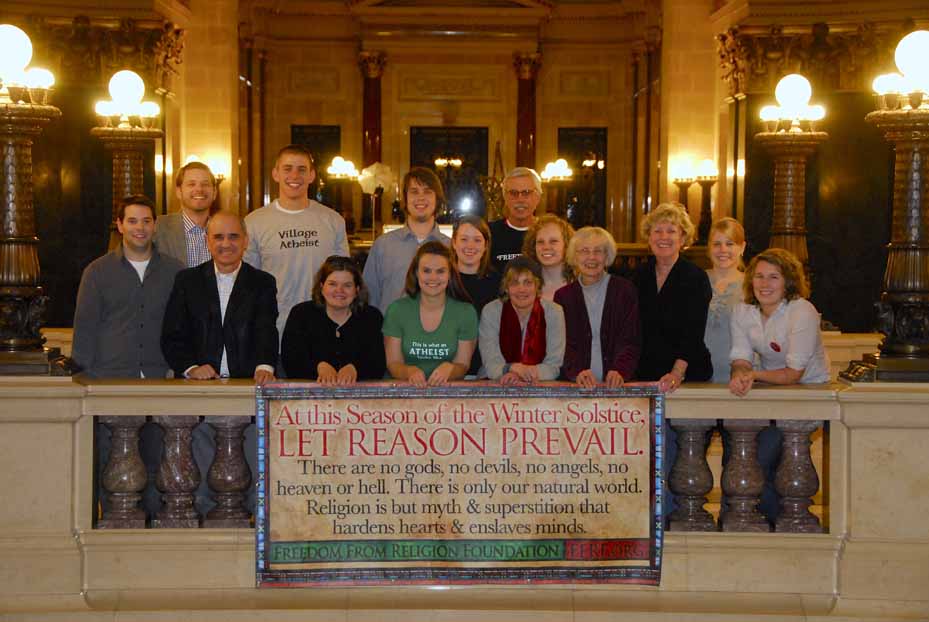 There were unnecessary rallies in defense of the Nativity Scene (as if the atheists were coming to tear it down), the Mayor spoke out against FFRF… it was chaos all around, all caused by city officials' own ignorance of the law.
And now, they want it to happen all over again.
Next month, the Borough council will meet to decide what will happen this year and the proposal currently on the table is completely insane:
Under the proposed rules, any borough resident or taxpayer wishing to put up a holiday display would submit an application for a permit. If no borough taxpayer applied, then people from outside the area would be able to apply.

If there were more than one applicant, the borough would hold a lottery to determine who would get to choose the display, which would remain up from early December to mid-January.
That paragraph says a lot, so let's unpack it:
Knowing that more than one person will apply to put up a holiday display and knowing that the majority of the people in Ellwood City are Christians, the council is suggesting holding a "random" lottery to pick the display. They're not even being subtle about their wishes:
"We're all assuming that the winner of a lottery would put up a creche," said [council president Anthony] DeCarbo…

…

"My fear is that somebody is going to be picked in the lottery and not put up the Nativity," [Ellwood City Nativity Placement Committee chairwoman Marisa Bunney] said.
They're well aware atheists have gamed systems like this in the past. City officials in Santa Monica, California learned that the hard way and decided to stay out of the religion-picking-business altogether this year.
If they don't think atheists will come out in full force to counteract the Christian majority, they should prepare to be embarrassed:
… [DeCarbo] warned that lottery systems have caused problems in other jurisdictions when nonreligious groups — or religious parody organizations such as followers of the Flying Spaghetti Monster — won holiday display lotteries.

…

On Monday, Bunney suggested a standing display that would include the Nativity, along with secular holiday symbols, including a Christmas tree, reindeer and snowmen. She said a lawyer specializing in religious liberty issues examined a draft drawing of the display and said the only concern was that the Nativity was the centerpiece, although that issue could be remedied.
This is a stupid fight to pick. Let churches put up Nativity Scenes. The city government has no business taking sides in the War on Christmas and they should stay out of this. Put up some lights, take a few days off, leave it at that.
Meanwhile, I hope atheists in Ellwood City will consider applying for the displays. I'm sure FFRF will help you out. When the time comes, I'll post all the rules here to make applying easy.
City officials may know how to pander to the religious crowd, but we understand math. And if they want a challenge, we'll make sure our applications drown out all the Christian ones.