The town of Warren, Michigan put up a Nativity Scene in the Atrium of City Hall this past winter, so, naturally, the Freedom From Religion Foundation asked Mayor James R. Fouts to put up one of their own signs: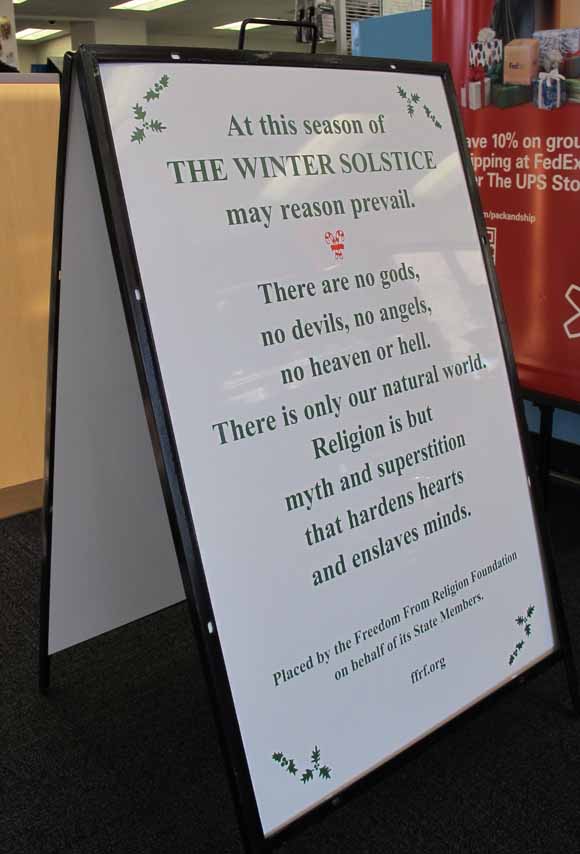 "At this season of the Winter Solstice, let reason prevail. There are no gods, no devils, no angels, no heaven or hell. There is only our natural world. Religion is but myth and superstition that hardens hearts and enslaves minds."
Fouts quickly rejected the proposal:
"I felt that to allow them to put their sandwich board sign up was an offensive act against religion, and it wasn't exercising freedom of religion or freedom of speech. It was exercising the desecration and destruction of religion."
Fouts had said other groups would be welcome to display "their religious holy seasons in our atrium," but for some reason, FFRF wasn't welcome. In addition to the Nativity Scene, there ended up being a Christmas tree, an elf, reindeer, Santa's mailbox, and other Christmas goodies.
So FFRF filed a federal lawsuit against the Mayor and town, calling their actions censorship and an illegal endorsement of religion.
On Thursday, the court issued its ruling against FFRF. In short: They said the display was secular enough and FFRF was just being a dick:
[T]he Mayor sets forth permissible bases for denial — that the Sign was meant to counter the Nativity Scene, not celebrate the holiday season, and that the anti-religious language of the sign, in this context, could lead to a disruption of city business. There is nothing indicating the Mayor denied placement of the Sign solely in defense of religion; religion was simply not the appropriate subject-matter.
Religion wasn't the "appropriate subject-matter"?! I find that hard to believe when the most prominent display celebrated the birth of Jesus… even if the display were privately donated, it doesn't mean it should be promoted by any local government.
So was this censorship again FFRF's message or was their sign just too harsh for the display? Do you think a more innocuous message, like, "This season, celebrate reason" would've been allowed?