To celebrate the 50th anniversary of the Advertising Standards Authority in the UK, the ASA released a list of the most "complained-about ads of all time."
Not making it into the Top Ten list: The Ariane-Sherine-inspired ad that began the worldwide atheist billboard barrage:
Taking the #4 spot on the list: The response ad put out by The Christian Party: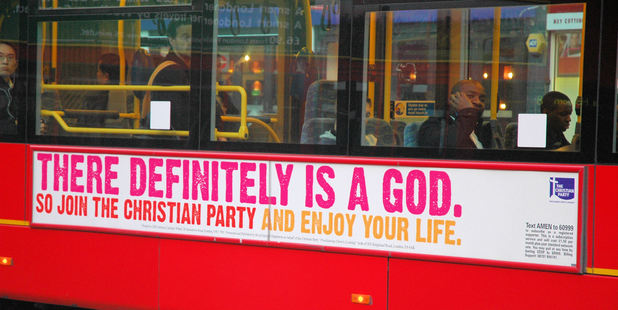 Complainants objected that the strap line 'There definitely is a God. So join the Christian Party and enjoy your life' was offensive to atheists and couldn't be substantiated. Political party ads are out of our remit, but even if it had been in remit we wouldn't have banned it because it was clearly a statement of opinion, rather than fact.
Amazingly, the #5 most-complained-about ad of all time featured the Pope supporting condom usage…
(Thanks to @Jonzee72 for the link!)