Everyone who has ever visited Branson, Missouri has inevitably asked the same question: Why isn't there a giant cross for my family to visit?
Worry no more. It's happening: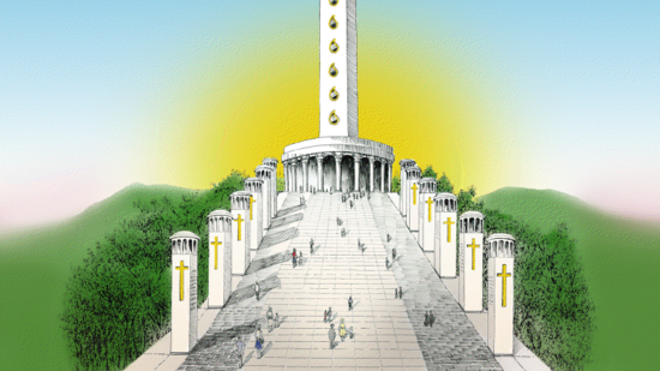 Kerry Brown said the "God-given vision" of the Branson Cross came to his father Dean two decades ago after he bought land atop Bear Mountain near the intersections of U.S. highways 160 and 65 in Branson, tourist mecca famous for its country music venues.

"It started as a vision with a 7-foot-tall cross just so people would have a place to go and meditate with the Lord," Brown told FoxNews.com. "As time went on, additional portions of the vision came to him and ultimately it was to build the largest cross that anyone has ever seen."

Brown hopes to have the $5 million project completed by the end of 2013. The cross will feature a 100-foot crossbeam and twin elevators to the 17-story-tall horizontal bar. The project is being funded by donations, and though Brown declined to say how much he's taken in, a website associated with the effort said some $410,000 has been raised so far. Much of the expense will go to preparing the mountaintop site.
It's a good thing this is going up. I was beginning to think Missouri was going to suffer from a complete lack of crosses.
"I know St. Louis has the Gateway Arch and San Francisco has the Golden Gate Bridge, and those are all fantastic monuments, but they're all secular monuments," he said. "This will be the first monument to the spirit of man and there's a reason why it's being built in the heartland of the nation. It's absolutely in the right place at the right time and it's going to have ten times the spirituality as any one of those monuments."
Would someone like to tell Brown that 10 times 0 is still 0…?
If it's all happening on private land with donated money, there's not going to be much of an argument from atheists. But if they suddenly get tax breaks for a monument to their faith, they're going to see a lawsuit. In both cases, this is an unnecessary monument that accomplishes nothing useful.
And can we stop with all the nonsense about how the Cross isn't a Christian symbol? It was a bad argument then and it's a bad argument now.