Are there any shows that cover religion in a fair way? That is, they don't push one particular belief system (or even faith in general) but offer somewhat a little more nuanced?
Mark Oppenheimer argues that The Daily Show stands above the rest: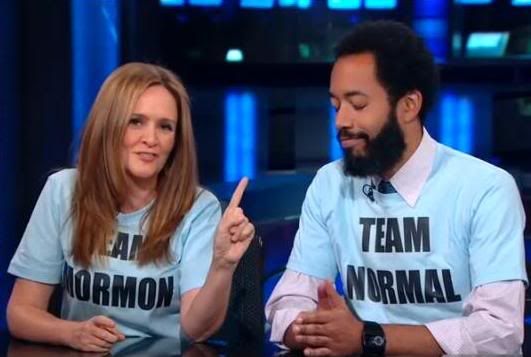 Stewart comes at religion with buckets of derision, but I do not find him offensive, nor should anyone who enjoys comedy. Like so many of the best comedians, he is an equal-opportunity hater. Sometimes it's atheists he cannot stand, as in his bit about the beams in a shape of the cross that survived the Ground Zero wreckage, which the American Atheists did not want displayed. Sometimes it's the Catholic church, which last November proved a useful point of comparison for the football culture at Penn State: "I get that it's probably hard for you to believe that this guy you think is infallible, and this program you think is sacred, could hide such heinous activities, but there is some precedent for that," Stewart said, referring to coach Joe Paterno and the sex-abuse scandal. "Yeah, and just like with the Catholic Church, no one is trying to take away your religion, in this case football. They're just trying to bring some accountability to a pope, and some of his cardinals." In both cases, it was the culture of certainty that Stewart was mocking, not the belief system itself. It was the human tendency toward hubris.

…

… the implicit message is one that religion scholars are always trying to convey: all religions have beliefs that seem bizarre to outsiders, and "cult" is often just a word to describe the other guy's religion. The Daily Show approaches American religion in the spirit of tolerance, but not with the wimpy, eager-to-please hand-wringing that characterizes so much liberal dialogue in this country. Rather, religions are shown to be strange and possibly cringe-inducing: our job is to take an honest look, then tolerate them anyway. It's a call to rigorous citizenship.
Oppenheimer dismisses Real Time with Bill Maher as too "simplistic," but I don't buy that. You don't hear nuanced discussion of religion on that show because there's no need to debate the color of a unicorn's horn when it comes to matters of truth. Maher may not know much about various religious faiths — he's pretty black/white about what he assumes religious people believe — but he doesn't let even moderate religion get by with a free pass. That's not bad religion coverage — that's just preaching reality.