For five years now, city officials in Streator, Illinois have allowed a sign to go up in a local park reading, "Jesus died for your sins":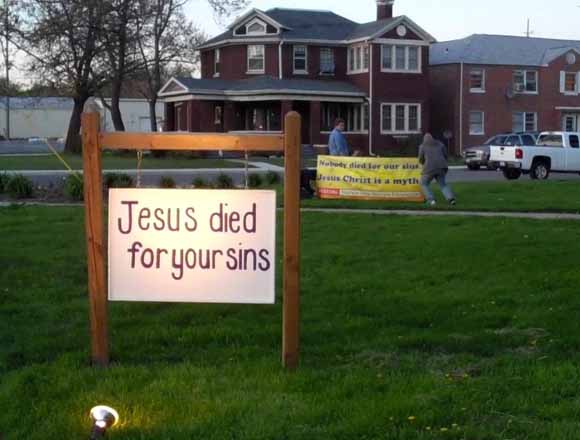 Last month, they also allowed the erection of three Christian crosses: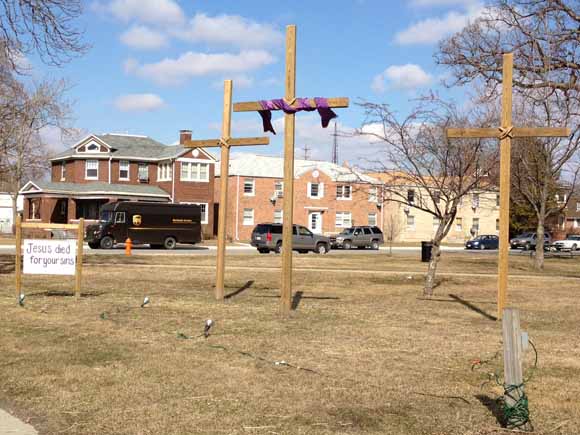 This is the same park that hosted a nativity scene this past winter, by the way.
Eyebrows went up at the Freedom From Religion Foundation, I'm sure, when they heard about this. So they asked city officials what they were thinking:
The city's attorney… responded that displays would continue to be allowed because the city is treating its city park as a public forum.
Oh, it's a public forum?! You didn't say! Well, that's good, because it turns out FFRF has a sign to put up right next to the other ones…
That's the banner seen in the background of the picture near the top of this post.
"We think the city would be wise to exclude all displays from the park. Our banner is a protest of the city's continued decision to permit public property to be misappropriated to promote an exclusionary evangelical message," said Annie Laurie Gaylor, FFRF co-president. "There are tax-free churches on practically every other corner where manger scenes and crosses may be placed. City parks ought to be free of religious divisiveness," she added.
The banner will stay there through April 13th. Say what you will about the bluntness of the message — the FFRF may very well achieve its goal of getting the city to stop treating taxpayer property like the outside of a church.
(Hey, Scientologists, did you hear the park in Streator, IL is a public forum for religious expression?! Get some of your signs up! Muslims, I'm looking at you, too!)
Happy Easter! 🙂