Hemant Mehta covered Patrick Greene earlier, prior to new information that has come to light.
…
The headline goes "Patrick Greene, Longtime Atheist, Announces Conversion to Christianity". Hmm… what is this new lock-tight argument for Christianity that has converted an atheist? Apparently a few hundred dollars in donations to help him with his vision made the difference. I could say these funds bought his soul, but it's more inspiring to say the true-Christian show of support opened his heart. Where were his fellow atheists and humanists in his time of need? This is not a rhetorical question — because we seem to have been right there with him all the way.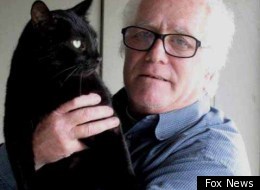 Medical issues and life stress such as those Greene has faced is exactly what a supportive community is for. This is exactly why the Military Association of Atheists & Freethinkers seeks reform in the military. Greene is a veteran, so I take a special interest in stories like this. Greene is suffering the onset of blindness from glaucoma, and that will take away his already meager livelihood as a cab driver. He's applying for VA benefits as well. The military offers daily stress of training, combat, and tragedy, just to name a few. A recent Pew study also reiterated the need for community, correlating a 24% improvement in post-war reentry from the combat theater. Greene, other veterans, other atheists, and people in general shouldn't have to go it alone.
Greene was known as a long-time atheist and atheist activist. After considering legal action regarding a local nativity scene, he was approached by a local church. In a show of support, the church took up a collection to "kill him with kindness" (a nice contrast from the simple "kill him" death threats I and many atheist activists receive). He says Christian kindness caused him to reconsider his beliefs. In his reconsideration, he came to believe, "you just had to accept on faith without doubting every period and every comma." So he decided blind faith is good? Secondly, he stated that he couldn't reconcile "the vast difference between all the animals and us." I'm not sure if he means the majority of DNA, skin, bones, hair, eyes, ears, four limbs, capacity for love, pain, shame, and empathy, or maybe he just meant the human propensity for war. I know he didn't mean the capacity for reason.
If I'm harsh, it's because all this seems very fishy (…get it?). He has received donations, has a site for donations, and plans to transfer his new beliefs into work as a minister. Why so quick to go to the Christians? Atheists and humanists have come to the rescue of Jessica Ahlquist, Nicole Smalkowski, Damon Fowler, and Constance McMillen in their struggles. Organizations like Atheists Helping the Homeless in nearby Austin, the Foundation Beyond Belief, and the charitable arms present in nearly every atheist and humanist organization show that we atheists are concerned and capable of helping.
So what is his background with our community? Patrick Greene was featured on The Atheist Experience in 2008. At that time he was protesting a bumper sticker being sold by evangelist Ray Comfort. His legal grounds? People might think bumper stickers are facts. The Atheist Experience essentially excoriated Greene for counter-productive litigiousness. That year he also spoke at a Church-State Rally in Austin. One local atheist suggested Greene start the online fundraising campaign he has now begun and also coordinated to send financial aid. Greene's most recent effort was to prepare a lawsuit against a local nativity scene on public land, but it's unclear what the merits of that suit may have been as it was never filed. It seems he has been involved with the atheist movement to a small extent, but his actions seem to have alienated from atheists to the point that he has sought refuge in the Christian movement.
Arguably, this is a black eye for the atheist community because we couldn't properly help one of our own. On the other hand, Greene was a member of the atheist community for years and had a bumpy ride at best. He did not endear himself to others and engaged in some questionable activism. Now, he's embraced a Christian community that is willing to provide some financial support and a livelihood as a preacher. The local Christians in Athens deserve nothing but praise for extending a kind hand to someone who seemed so at odds with their beliefs. Greene, like all people, has worth and dignity as an individual. But all-in-all, I think we in the atheist community shouldn't be too hard on ourselves for letting him slip away. And the Christian community shouldn't be too quick to take credit for a saved soul until they really get to know Greene.