A Christian group called Student Life Auckland (at Auckland University in New Zealand) is giving students a chance to throw an egg at their members.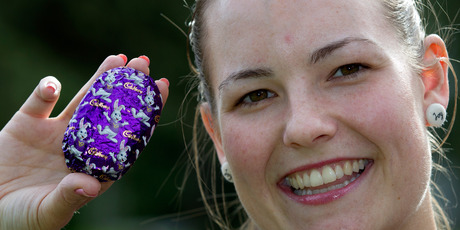 Just one catch:
"The meaning of the Easter story and Christ's resurrection will be explained to those wanting to throw eggs," explains a flyer.

"Egging will continue for as long as eggs last. One egg per person."

Organiser Penelope Brewer, 27, said flyers left in lecture theatres this week had people talking about the event and she fully expected some eggs to be thrown with feeling.

…

"So we're hoping to reach students wherever they're at on campus — whether they're atheist, agnostic, Hindu — we're just keen to have some chats with people."

….

At least 10 people had volunteered to take an egg to the face for Jesus, but they would have a helmet of some sort and a poncho for protection.

…

Auckland University Atheists could not be reached for comment.
Well, considering how so many Christian groups try to preach to you without permission, I suppose it's a step up for them to offer a reward for wasting your time.
Or (*Hemant puts on Conspiracy Cap*) maybe this is just a sneaky way for them to get pictures of atheists throwing eggs at Christians so they can use it against us in the future! Look at how immoral and violent the atheists are! They're throwing food at us because we tried to preach to them!
When this turns into a movie, Kirk Cameron will play the part of the Christian victim. As usual.
(Thanks to Matthew for the link!)