In case you missed it this morning, here's the video of American Atheists president Dave Silverman talking about the Reason Rally on CNN:
It's a quick and appropriate dismissal of what the critics have said about the Hebrew and Arabic billboards.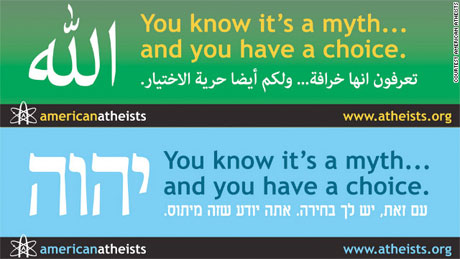 Also, the host asks Dave about Alain de Botton's idea of an "Atheist Temple" and Dave says — very calmly, I might add — that it's probably not something he would go to, but if it helps someone who's an atheist, great. What a far cry from the people going apeshit ballistic over the suggestion that it might be worthwhile for some people to take ideas that religious groups use and hone them for a secular purpose.
Dave also has a piece up on the Guardian (UK) website explaining why American Atheists advertised in religious communities:
We're not out to irritate or insult those who disagree with us, but we're also unwilling to be intimidated by them, unwilling to let them control or suppress our message. (If Pepsi starts letting Coke decide where their ads should be placed or what they should say, let us know and maybe we'll reconsider.) If we can get conversations, civilized arguments, and fresh reconsiderations going with our billboards, so much the better.

…

Some American atheists, in our consistent experience, do not realize that there are many others of the same mind in their communities and neighborhoods — often enough, even in the seat next to them in temple, or the community hall at the mosque. Close-knit communities with strong religious traditions are especially vulnerable to harboring this sort of isolation for non-believers. An intellectually suffocating culture in many religious communities is designed to keep dissidents from knowing about rival ideas and about others like them within the community. Our actions are designed, in part, to counter that illusion, to break down that wall of deception.
The fact that there's so much of an outcry against them just sends the message that AA has struck a nerve and they need to keep reaching out to closeted atheists in religious areas.