Last week, the Freedom From Religion Foundation ran this ad in the New York Times, encouraging people to leave the Catholic Church: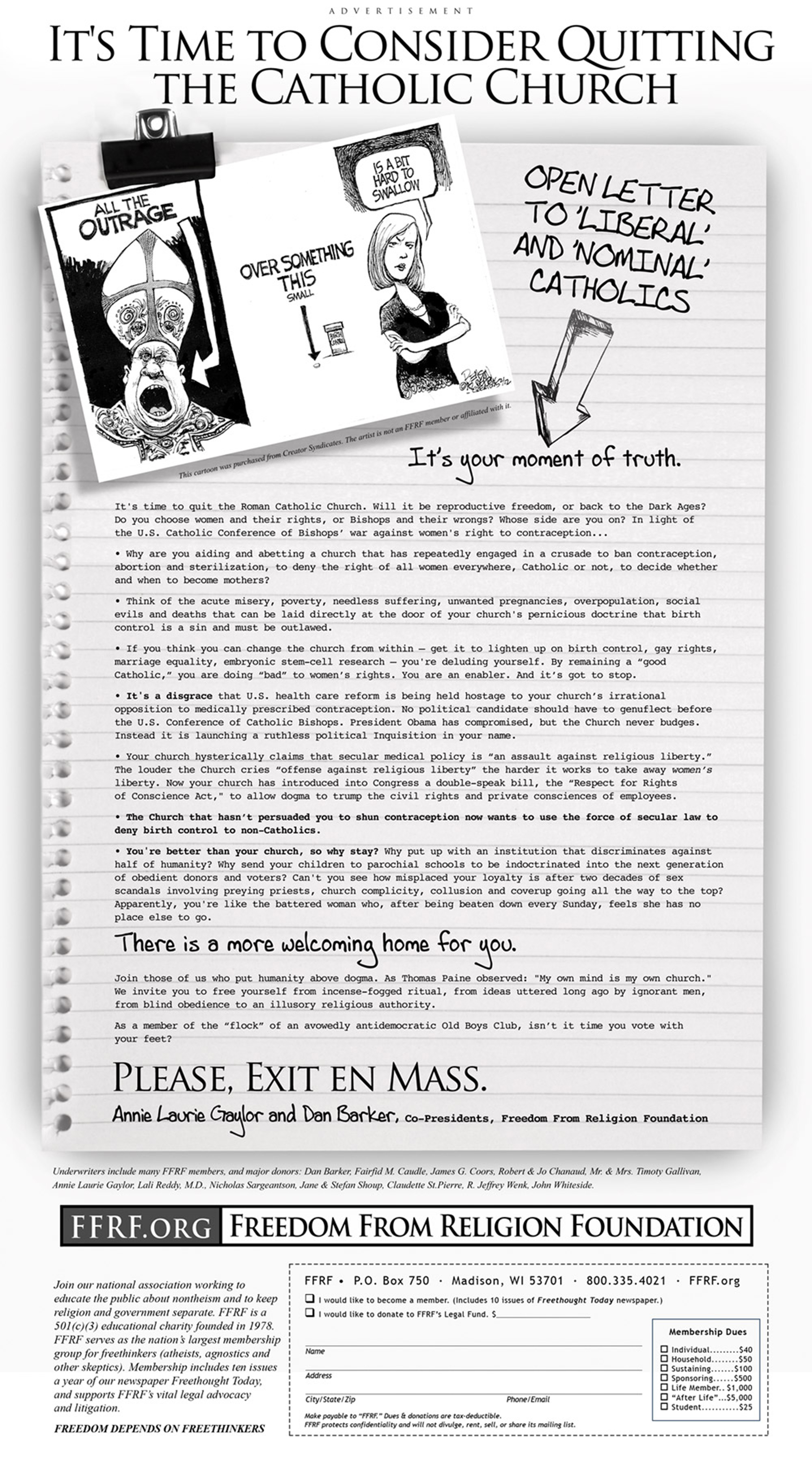 It's time to quit the Roman Catholic Church. Will it be reproductive freedom, or back to the Dark Ages? Do you choose women and their rights, or Bishops and their wrongs? Whose side are you on? In light of the U.S. Catholic Conference of Bishops' war again women's right to contraception…

Why are you aiding and abetting a church that has repeatedly engaged in a crusade to ban contraception, abortion and sterilization, to deny the right of all women everywhere, Catholic or not, to decide whether and when to become mothers?
Think of the acute misery, poverty, needless suffering, unwanted pregnancies, overpopulation, social evils and deaths that can be laid directly at the door of your church's pernicious doctrine that birth control is a sin and must be outlawed.
If you think you can change the church from within — get it to lighten up on birth control, gay rights, marriage equality, embryonic stem-cell research — you're deluding yourself. By remaining a "good Catholic," you are going "bad" to women's rights. You are an enabler. And it's got to stop.
It's a disgrace that U.S. health care reform is being held hostage to your church's irrational opposition to medically prescribed contraception. No political candidate should have to genuflect before the U.S. Conference of Catholic Bishops. President Obama has compromised, but the Church never budges. Instead it is launching a ruthless political Inquisition in your name.
Your church hysterically claims the secular medical policy is "an assault against religious liberty." The louder the Church cries "offense against religious liberty" te harder it works to take away women's liberty. Now your church has introduced into Congress a double-speak bill, the "Respect for Rights of Conscience Act," to allow dogma to trump the civil rights and private consciences of employees.
The Church that hasn't persuaded you to shun contraception now wants to use the force of secular law to deny birth control to non-Catholics.
You're better than your church, so why stay? Wy put up with an institution that discriminates against half of humanity? Why send your children to parochial schools to be indoctrinated into the next generation of obedient donors and voters? Can't you see how misplaced your loyalty is after two decades of sex scandals involving preying priests, church complicity, collusion and coverup going all the way to the top? Apparently, you're like the battered woman who, after being beaten down every Sunday, feels she has no place else to go.

There is a more welcoming home for you.

Join those of us who put humanity above dogma. As Thomas Paine observed: "My own mind is my own church." We invite you to free yourself from incense-fogged ritual, from ideas uttered long ago by ignorant men, from blind obedience to an illusory religious authority.

As a member of the "flock" of an avowedly antidemocratic Old Boys Club, isn't it time you vote with your feet?

Please, exit en Mass.

Annie Laurie Gaylor and Dan Barker
Co-Presidents
Freedom From Religion Foundation
That made Pamela Geller (an anti-Muslim zealot whose idiotic rantings are highlighted by the Southern Poverty Law center) to ask whether the same ad could've been run if it asked people to leave Islam.
So she created this ad and asked the Times to run it at the same cost:
Will it be religious freedom, freedom of speech, or back to the Dark Ages? Do you choose women and their rights, or imams and their wrongs? Whose side are you on?

In light of the ongoing, ruthless, international jihad against non-Muslims, the 1,400-year record of institutionalized oppression of women, the 18,560 Islamic attacks across the world since 9/11, and the endangering of free peoples across the world, if you're part of the Islamic jihad, you're part of the problem.

Why are you aiding and abetting Islamic leaders who have repeatedly and publicly announced a jihad to subjugate Christians, Jews, Hindus, and all non-Muslims, and to deny the rights of all women everywhere, Muslim or not?

Think of the acute misery, poverty, needless suffering, social evils and deaths that can be laid directly at the door of the Islam's antiquated doctrine that commands jihad and genocide.

If you imagine you can change the mosque from within — get it to lighten up on Jew-hatred, hatred of women, hatred of non-Muslims, hatred of gays — you are deluding yourself. If you remain a "good Muslim," you are doing "bad" to the rights of women and non-Muslims everywhere. You're kidding yourself if you think the mosque is ever going to expunge the Qur'an of its violent texts that inspire jihad, or interpret them out of existence.

Your mosque hysterically claims that freedom of speech and the truth about jihad and Islamic supremacism are "an assault against Islam." You are savvy enough to realize that the real assault is by the mosque against human rights. A captured internal document of the Muslim Brotherhood declares that its goal in the U.S. is "eliminating and destroying Western civilization from within and sabotaging its miserable house." Is that an agenda you endorse?

Obama has compromised, but Islam never budges. Instead, it is fully embarked upon a stealth jihad, using the Justice Department to force businesses and educational institutions to accommodate Islamic law — the same Islamic law that denies the freedom of speech, mandates death for apostates, and oppresses women and non-Muslims.

Why put up with an institution that dehumanizes women and non-Muslims — fully 9/10ths of humanity? Ask your imam: Does he support Hamas? Hizb'Allah? The destruction of Israel? Does he condemn the slaughter of Christians in Egypt, Pakistan, Nigeria, Iraq, etc. Does he vocally denounce Islamic honor killings, FGM, forced marriages, child marriage, polygamy? As a "moderate" Muslim, you tell yourself and the world that you have chucked out the violent doctrine and hateful, oppressive decrees of your religion, and yet you keep identifying with the ideology that threatens liberty for women and menaces freedom by slaughtering, oppressing and subjugating non-Muslims.

There is a more welcoming home for you!

Join those of us who put humanity above the vengeful, hateful and violent teachings of Islam's "prophet."

As a member of the "umma," of an avowedly hateful, supremacist, and antidemocratic club, isn't it time you vote with your feet? Please, exit en mosque.

Very truly,
Pamela Geller
President, Stop Islamization of Nations, American Freedom Defense Initiative
Robert Spencer
Vice-President, Stop Islamization of Nations, American Freedom Defense Initiative
The Times said no to that ad. Not now. Because it would put our troops in danger.
Bob Christie, Senior Vice President of Corporate Communications for the New York Times, just called me to advise me that they would be accepting my ad, but considering the situation on the ground in Afghanistan, now would not be a good time, as they did not want to enflame an already hot situation. They will be reconsidering it for publication in "a few months."

So I said to Mr. Christie, "Isn't this the very point of the ad? If you feared the Catholics were going to attack the New York Times building, would you have run that ad?"

Mr. Christie said, "I'm not here to discuss the anti-Catholic ad."

I said, "But I am, it's the exact same ad."

He said, "No, it's not."
To be sure, Geller is crazy and bigoted. I'm not defending her views. But her Islamic version of the ad is almost a line-by-line copy of FFRF's ad. (Though FFRF's ad asks "good" Catholics to break away from the awful Church, while Geller's ad paints all of Islam with a broader brush when it should really be reserved for the extremists.)
So what happened here? Are the ads really different? Is there a double standard at play here? Is the NYT really worried about the troops? Or does it just not want to be in the crossfire of Islamic militants? If it's the latter, is that a good reason to not run the ad?
***Edit***: To those pointing out the more extremist or untruthful language in the anti-Muslim ad, keep in mind the NYT did not reject the ad for any of those reasons. They focused solely on the issue of timing.
I'm all for protecting our troops — and indeed, this was a pretty tough week in Afghanistan in terms of America/Muslim relations — but the NYT has run articles in the past that could have jeopardized military efforts. In this case, they should've run both ads or none. Law Professor Jonathan Turley has it exactly right:
I am not sure that we should start to restrict speech on the basis of content in fear of a response of extremists in other countries. That would appear to reward the violence and anti-speech conduct of such extremists. It is precisely what occurred after 2005 when a Danish newspaper published cartoons mocking the prophet Muhammad. The result were worldwide protests in which Muslims reportedly killed more than 100 people — a curious way to demonstrate religious tolerance. However, while newspapers swore allegiance to free press values, there was an obvious level of self-censorship to avoid pictures and cartoons of Muhammad and Islam in general.
Side note: Why is the asking price for Geller's ad $39,000 when the FFRF said they had to raise/pay $52,000 for theirs?
(via Get Religion)