Take a look at the subject of the OC Weekly's cover story: Bruce Gleason of the Backyard Skeptics!
Bruce Gleason, a 57-year-old Villa Park resident, has become something of a legend in the community of godless Orange Countians who read his quotes in news reports, devour his writing on his website and watch his public-access, cable-TV show on atheism. But while his method may be satire, his message is as serious as sin, he says: defending the skeptic community in Orange County…

…

When asked why Backyard Skeptics doesn't pour more resources into attacking Islam, Gleason chuckles. "We're not stupid," he says. "We're not going to put up pictures of Mohammad. . . . The Muslims to the Christians are like the Russian secret police to the FBI. You don't fuck with the Russian police; they'll cut off your fuckin' balls. Literally, that does happen. Christians or the FBI are not going to do that. They might waterboard you."
It's a positive article, though Ray Comfort makes a cameo near the end… overall, pretty good publicity for Gleason and his group.
In case you need a reminder, here's a sampling of the billboards put up by Backyard Atheists:
Bus shelter ads from July, 2011:
One featuring a smiling atheist (August, 2011):
This one encourages rejection of all superstition (September, 2011):
This one went directly after faith (September, 2011):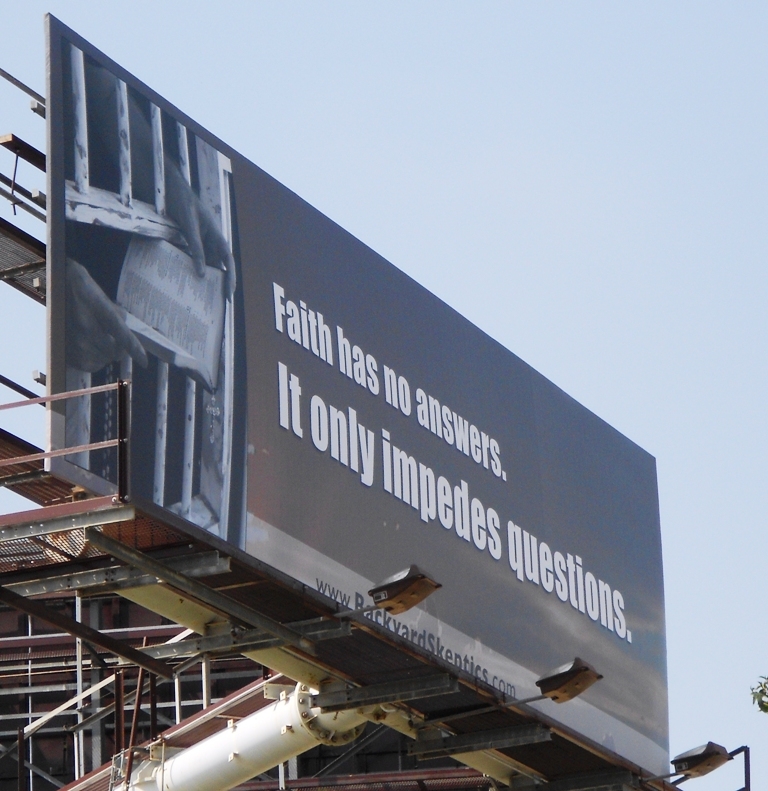 This controversial billboard from October, 2011 misquoted Thomas Jefferson:

This one asked, "What myths do you see?" (January, 2012)

Finally, this one came out right around Valentines Day (February, 2012):