If you open up today's New York Times, you should be seeing this full-page ad from the Freedom From Religion Foundation: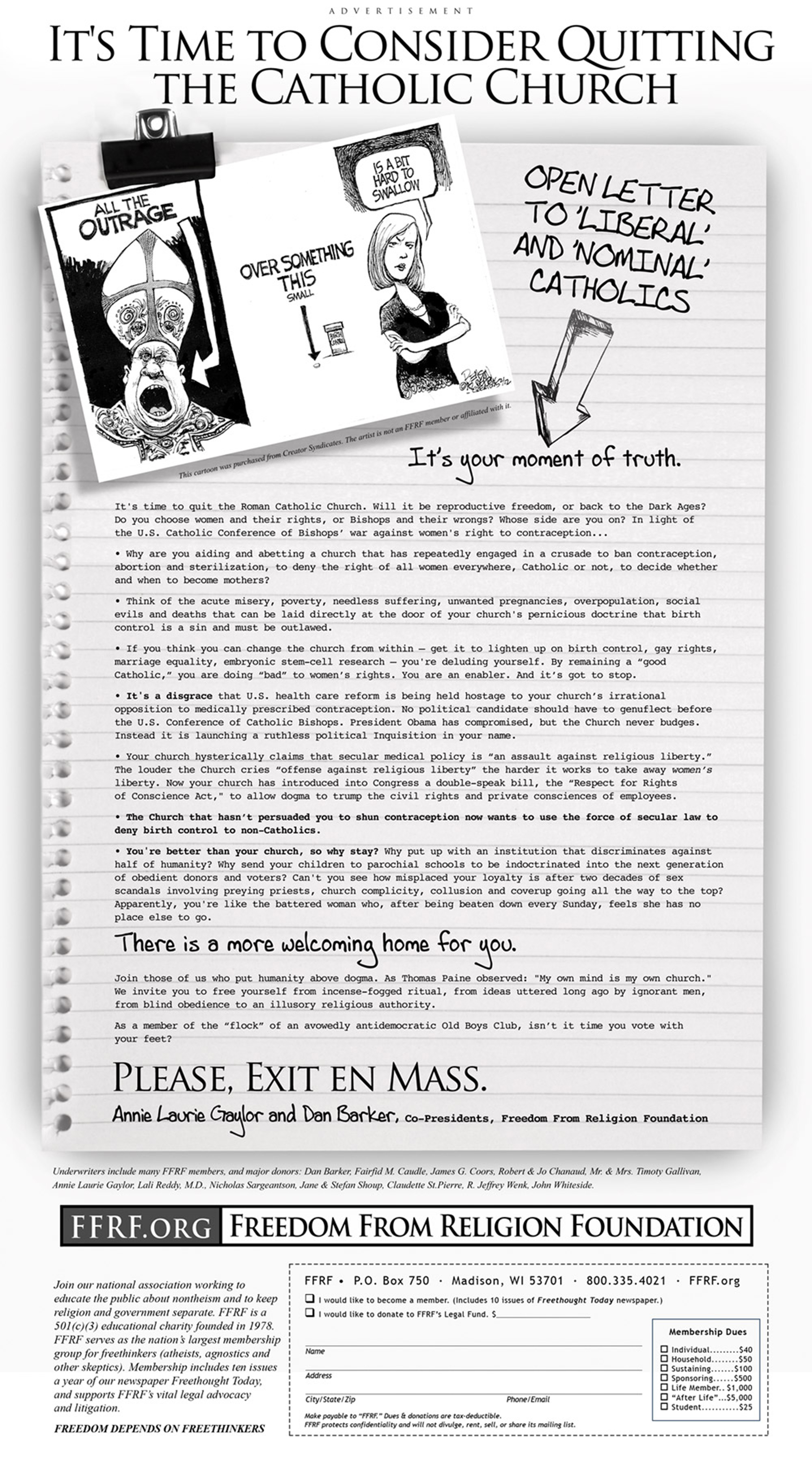 "As a member of the 'flock' of an avowedly antidemocratic Old Boys Club, isn't it time you vote with your feet? Please, exit en Mass," requests the ad, signed by FFRF Co-Presidents Annie Laurie Gaylor and Dan Barker.

The ad features a cartoon by Steve Benson depicting an angry bishop, with a woman next to a birth control pill telling him: "All the outrage over something this small is a bit hard to swallow."

The Times required FFRF to alter its punchy headline, 'It's Time to Quit the Catholic Church,' to 'It's Time to Consider Quitting the Catholic Church.' Barker called that decision "disappointing" and "a sign of the Catholic Church's inordinate power to intimidate and muzzle criticism."
The new headline isn't quite as punchy, but it's already making a splash. The Catholic League's Bill Donohue is throwing a fit. (But, then again, what else is new with him?)
He also suggests that FFRF co-president Annie Laurie Gaylor should be grateful her mother didn't have an abortion:
Never has there been a more vicious anti-Catholic advertisement in a prominent American newspaper than the one in today's New York Times by Freedom From Religion Foundation (FFRF). The demonization of Catholicism is palpable.

…

The ad blames the Catholic Church for promoting "acute misery, poverty, needless suffering, unwanted pregnancies, overpopulation, social evils and deaths." It says the bishops are "launching a ruthless political Inquisition" against women. It talks about "preying priests" and corruption "going all the way to the top." In an appeal to Catholic women, it opines, "Apparently, you're like the battered woman who, after being beaten down every Sunday, feels she has no place else to go."

… Fortunately for Gaylor, her mother did not follow through on the advice she gave women in her book, Abortion Is a Blessing.
There's a guy who no doubt celebrated International Women's Day yesterday…
You can read more backstory about the ad here and here.
And if you haven't read it already, please check out Gaylor's open letter to "liberal" Catholics which led to the creation of this ad.