This is the full-page ad the Freedom From Religion Foundation wants to place in the New York Times: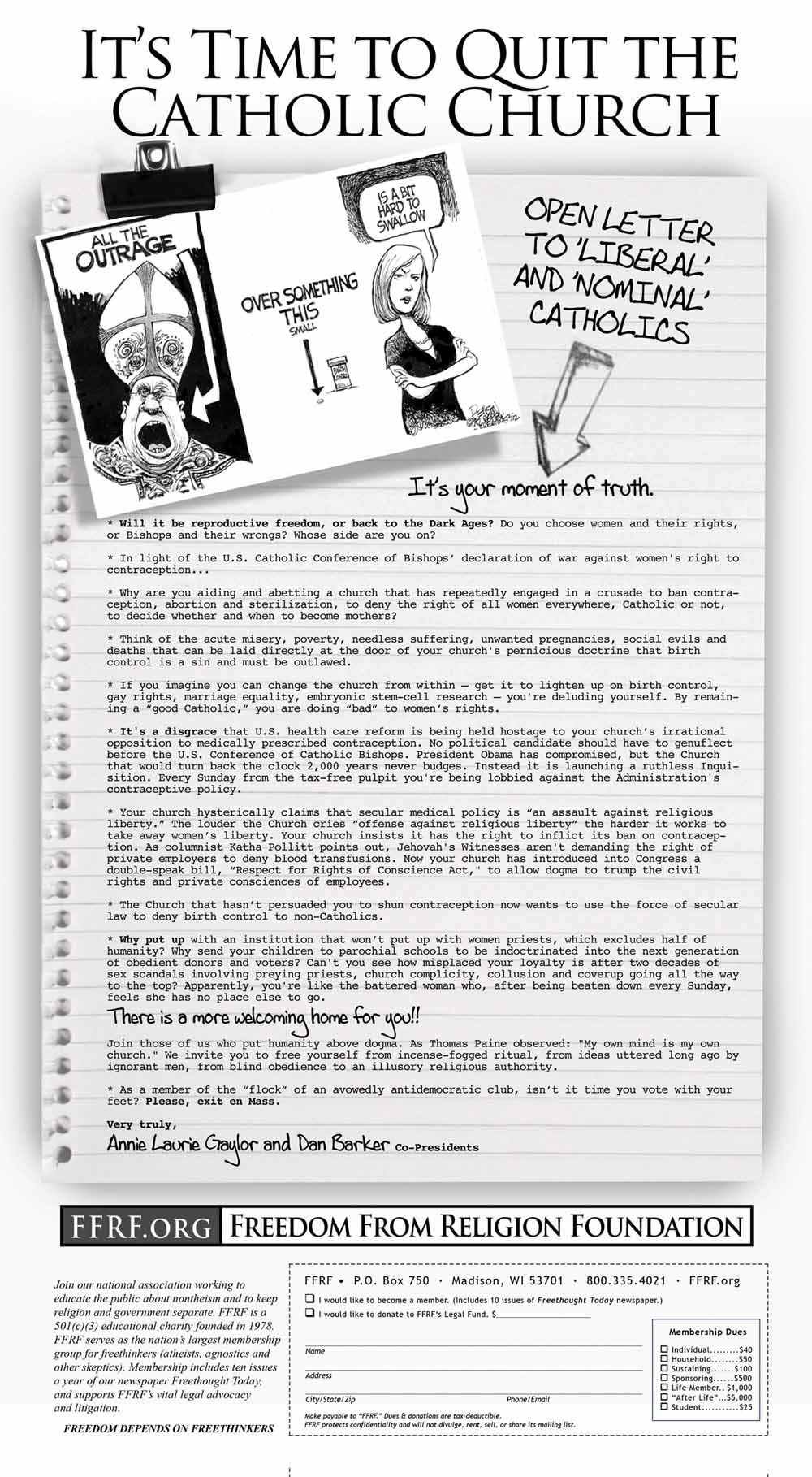 They're looking for contributions to run the pricey $52,000 ad:
If the response is enthusiastic enough, FFRF will book a full-page ad. If we don't meet our $52,000 quota, we'll go with a smaller ad. We can get the full-page ad in next week. The smaller stand-by ad could take up to 3 weeks to run.
(Before you start complaining about how that money could be used for X, Y, and Z, realize that, unfortunately, many donors *love* giving money for purposes like this one. They don't get very excited about whatever X, Y, and Z are. FFRF — and every other atheist group — knows that very well by now. Billboards and in-your-face ads are usually more exciting for the membership than the alternatives. That's why they raise money for them. It gets their name in the press, gets members excited, and spreads the message.)
The idea for the ad came from an open letter to "liberal" Catholics published last week by FFRF co-president Annie Laurie Gaylor:
You're better than your church. So why? Why continue to attend Mass? Tithe? Why dutifully sacrifice to send your children to parochial schools so they can be brainwashed into the next generation of myrmidons (and, potentially, become the next Church victims)? For that matter, why have you put up with an institution that won't put up with women priests, that excludes half of humanity?

No self-respecting feminist, civil libertarian or progressive should cling to the Catholic faith. As a Cafeteria Catholic, you chuck out the stale doctrine and moldy decrees of your religion, but keep patronizing the establishment that menaces public health by serving rotten offerings. Your continuing Catholic membership, as a "liberal," casts a veneer of respectability upon an irrational sect determined to blow out the Enlightenment and threaten liberty for women worldwide. You are an enabler. And it's got to stop.
I wouldn't be surprised if they raised that money by early next week…