You may have heard of Helen Ukpabio, the evangelical Christian from Nigeria who holds some despicable beliefs:
… Ms. Ukpabio's critics say her teachings have contributed to the torture or abandonment of thousands of Nigerian children — including infants and toddlers — suspected of being witches and warlocks.
Seriously, a horrible excuse for a human being. And she's supposedly set to tour the United States to spread her Gospel of I-Made-This-All-Up: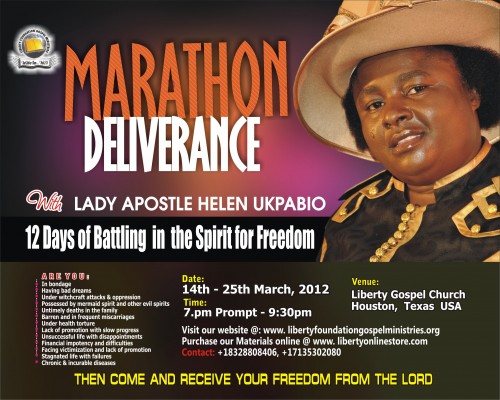 Even though the poster says the events are taking place in March — and I had someone lined up to go to the event and write up a report for this site — it looks like the tour has been postponed… maybe because word is spreading this Ukpabio is crazy, even for evangelicals.
In the meantime, a new website has been created to attack atheists who are trying to shine the light on Ukpabio. It may be a Poe, but who knows. It's called — and it's not a typo — "The Atheists Ploy to Destroy Christianity."
You are however doing the works of your master — the devil. You don't believe in God, Helen Ukpabio believes in God. You don't believe in Jesus Christ, Helen Ukpabio believes in Jesus Christ and owns him as her Lord and personal savior. You don't believe in the Holy Spirit, Helen Ukpabio believes in the Holy Spirit and is filled with the power of the Holy Ghost. How does that make you feel?
Craaaaaaaaaazy.
My new goal in life: Get featured on that website.