The Bideford town council in Devon (in England) did something even American cities don't do. Instead of praying before meetings, they scheduled them right on the agenda.
It took one of the councilmembers, Clive Bone, to finally try to put a stop to it. First, a compromise was offered — the Council could pray *before* meetings — but it was rejected. Then it went to the courts.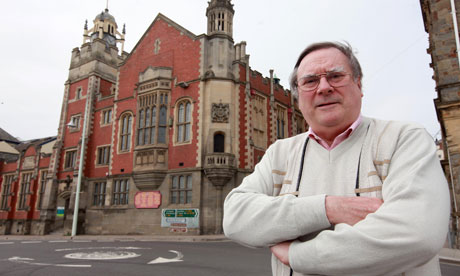 The good news: It worked! No more prayers during meetings. (Thanks, National Secular Society!) You can read the judge's ruling here (PDF).
NSS lawyers argued that council members who were not religious were being "indirectly discriminated against" and that their human rights were being breached.

…

The NSS, which said prayers had no place in "a secular environment concerned with civic business", argued the "inappropriate" ritual breached articles 9 and 14 of the European Convention on Human Rights, which protect an individual's right to freedom of conscience and not to face discrimination.
The bittersweet news: The judge ruled that prayer should stop not because it was a violation of anyone's rights, but because of an arcane law that simply didn't give the council the power to hold such prayers.
Mr Justice Ouseley said: "A local authority has no power under section 111 of the Local Government Act 1972, or otherwise, to hold prayers as part of a formal local authority meeting, or to summon councillors to such a meeting at which prayers are on the agenda."

He told the court: "There is no specific power to say prayers or to have any period of quiet reflection as part of the business of the council."

Referring to Bideford, he said: "The council has on two occasions by a majority voted to retain public prayers at its full meetings.

"But that does not give it power to do what it has no power to do."
You have to wonder what would've happened if the 1972 law had given them that power. Would it have been ok then? Precedence doesn't always have to be follower. (Says me, the non-lawyer.)
The NSS is pleased with the outcome, though:
… Keith Porteous Wood, Executive Director of the National Secular Society said:

"Acts of worship in council meetings are key to the separation of religion from politics, so we're very pleased with the judgement, and the clear secular message it sends — particularly the statement made about the 1972 Act…

"We believe that council meetings should be conducted in a manner equally welcoming to all councillors, regardless of their religious beliefs, or indeed, lack of belief.

"The NSS is not seeking to deprive those who wish to pray the opportunity to do so; indeed, we fight to retain freedom of religion and belief. The judgement clearly states that religious freedoms are not hindered, as councillors who wish to do so are free to say prayers before council meetings.
As reader Jon points out in an email, the prayers used to be useless. Now, they're useless and unlawful.