Park Romney is Mitt Romney's second cousin. They're not close (Mitt claims not to know Park, which is entirely possible when you come from freakishly large families), but what's really interesting is that Park is an ex-Mormon: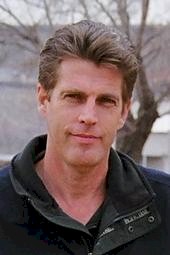 Mitt Romney's religion, Mormonism, which is my former religion, having been a Mormon High Priest, like Mitt still is, is a far bigger issue than most people realize and understand. In our rush to avoid being accused of being bigoted, in America, we have a natural tendency to want to steer clear of this topic. I will be the first to agree that to be arbitrarily dismissive of a man's candidacy for the office of President, or any office for that matter, on the basis of his religion is definitely bigoted. "Arbitrarily dismissive" is the key phrase here. In the case of Mormonism, we have a very unique situation. Questions about Mormonism for those fully informed of the very real issues are not in the least degree arbitrary. There are very real concerns that millions of former Mormons are very much aware of. This is not simply a question of subjective disagreements on points of faith that really can't be proved or disproved anyway. In the case of the Mormon Church, I share the view with many others, including people far more scholarly and qualified in other ways than myself, that the Mormon religion is not only an insidious contemporary fraud, but has been demonstrated conclusively to be such by researchers who are alive today and competent to testify on the basis of evidence still available today. Accordingly, the questions that are most important and relevant to Mitt's candidacy here, since he is a current High Priest of the Mormon Church, are not of religion, but very fair questions of ethics and judgment.
Sounds like a reasonable analysis of the situation. Romney doesn't deserve to be excluded from running for the presidency based on his religious beliefs, but we deserve to know what aspects of Mormonism he adheres to because they help us understand his thought process and — let's face it — his sanity.
So what does the Washington Post's Dana Milbank say about Park Romney?
Mitt Romney, [Park] claims, would be conflicted in office because "obedience to the leadership of the Mormon Church is part of the covenant of the temple ordinances to which Mitt Romney is absolutely a party."

Were you to come across a man articulating such views on a street corner, you probably would give him a wide berth and look over your shoulder to make sure he wasn't following you…

…

Every family has wacky relatives. The difference is, when you're running for office and you become a famous name, your relatives' surname becomes famous too — sometimes in unwelcome ways.

…

… the emergence of a "crazy cousin" might remind voters that Romney, a candidate who too often comes across as programmed, is just like the rest of us.
So, because someone dares to point out Mormon theology (regardless of whether or not Mitt Romney takes it seriously), he's "wacky," "crazy," and accused of being "anti-Mormon" (in a bigoted way) rather than a critic of bad ideas and irrational thinking?
Park responds to the criticism here. (Admittedly, the layout of his website makes me think he's kooky, anyway… but it's not because of what he's saying.)
Milbank seems to think if you critically examine religion, you're being intolerant. He's wrong.
People don't understand Mormonism. That's true. But right now, that's only helping Mitt Romney. The moment people begin to learn what Mormon theology really consists of and how fucked up it really is, Mitt's going to have a lot to answer to.
Side note: David Fitzgerald gave a great talk about Mormon theology at Skepticon 4 (start at the 1:00 mark):
(Thanks to Jamie for the link!)