The Freedom From Religion Foundation just announced the creation of the "Atheists in Foxholes Support Fund." The fund will offer scholarships and help to "persons who exhibit bravery in furthering the cause and experience hardship because of that stand."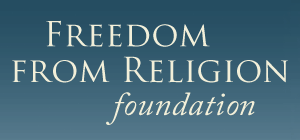 Take a wild guess at the first (and very deserving) recipient:
The Foundation announced today its first recipient will be Jessica Ahlquist, the besieged 16 year old running the gauntlet in Rhode Island for successfully suing her high school over an illegal prayer banner. FFRF today is sending a start-up scholarship check via its Atheists in Foxholes Support Fund for $10,000. FFRF already announced it is designating her for the 2012 Thomas Jefferson Youth Activist Award with a $2,000 scholarship.
As far as I can tell, this is not an annual award or even a set amount of money. It'll be given to whomever the FFRF deems worthy of receiving it, based on financial need or because FFRF just felt like giving someone a nice reward.
Anyone is welcome to earmark money specifically for the fund.