A 14-year-old former Girl Scout from California (identified as Taylor) created a YouTube video (which has since been made private) calling for a national boycott on the purchasing of Girl Scout cookies after a troop in Colorado recently admitted a transgender child.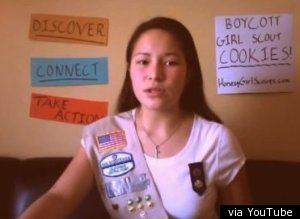 In the video, Taylor performs adorned with a silver cross and a sash covered with badges, while making statements like this one:
Right now, Girl Scouts of the U.S.A…is not being honest with us girls, its troops, its leaders, its parents or the American public… Girl Scouts describes itself as an all-girl experience. With that label, families trust that the girls will be in an environment that is not only nurturing and sensitive to girls' needs, but also safe for girls.
Of course, Taylor thinks only her definition of a girl matters and, beyond that, all nurturing and sensitivity is out the window!
Most disturbing to me and my family is they also admitted to have already placed transgender boys throughout America without letting everyone know."
What!? You were not all consulted personally on a decision that has nothing to do with you directly and is actually none of your business!? Amazing.
First off, hooray for the Colorado troop! Considering the Girl Scouts has a fairly strong religious mainstay (check out Wikipedia for some little tidbits on Girl Scout values), this inclusion makes me slightly more optimistic about the organization's future. That said, in December, three Louisiana-based leaders resigned and dissolved their troops after hearing of Colorado's decision, with one calling it "an almost dangerous situation" for children.
All this talk of danger and lack of safety… am I the only person who is not fearful of transgender 7-year-olds?
In response to the outcry from religious zealots, the Girl Scouts of Colorado released this statement:
If a child identifies as a girl and the child's family presents her as a girl, Girl Scouts of Colorado welcomes her as a Girl Scout.
Felisha Archuleta, the child's mother also defended her daughter:
I believe he was born in the wrong body… no one would know he's a boy unless they pulled his pants down.
If you are, however, really looking for something to boycott or protest against, there is a website Honestgirlscouts.com which describes itself as a group "concerned with the alarming choices GSUSA has been making," and "advocating for a change back to simply building girls of good character." They even offer a downloadable cookie boycott flyer that wrongly suggests that revenue from the cookie sales support abortion and "LGBT agendas."
People who support the Girl Scouts decision and are pleased with the inclusion are calling for a cookie BUYcott and I agree! Spread the word and buy as many boxes as you can afford!