Two new bills have been introduced and referred to the House Education Committee tackling the science curriculum currently taught in public schools in New Hampshire.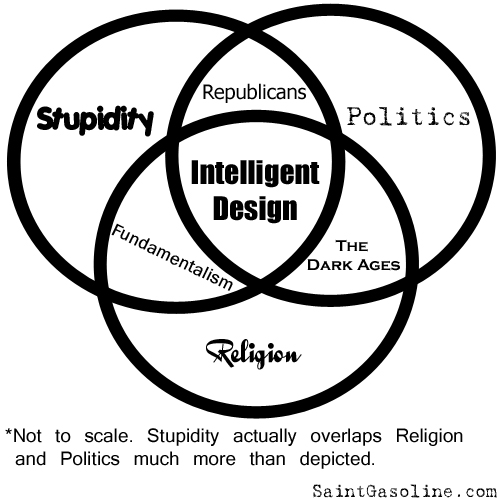 Rep. Jerry Bergevin is serving his first (and hopefully last) term and introduced the first bill, which would require schools to teach evolution as a theory, and would include "the theorists' political and ideological viewpoints and their position on the concept of atheism." I'm not sure why this would be relevant or anyone's business, but I'm sure he'll clarify and explain his reasoning coherently…
"I want the full portrait of evolution and the people who came up with the ideas to be presented. It's a worldview and it's godless. Atheism has been tried in various societies, and they've been pretty criminal domestically and internationally. The Soviet Union, Cuba, the Nazis, China today: they don't respect human rights."
*Phew* For a minute there, I thought he might say something asinine, offensive, and totally false.
There are so many things wrong with that quote and it begs me to wonder how, yet again, the most ignorant among us continue to infiltrate government positions. Bergevin also made this statement:
"As a general court we should be concerned with criminal ideas like this and how we are teaching it… Columbine, remember that? They were believers in evolution. That's evidence right there."
Are we really going to do a head count for who has done more harm based on their religious or non-religious ideations. Some bad people might be atheists, but they aren't bad because they are atheists and most bad people who are atheists aren't doing bad things in the name of atheism.
Reps. Gary Hopper and John Burt introduced the second bill, which has a slightly higher probability of actually being passed but is equally as obnoxious. Basically, they are challenging science as a field altogether, even going so far as to say:
"I want the problems with the current theories to be presented so that kids understand that science doesn't really have all the answers. They are just guessing."…

Currently, science class "is like having a creative writing class where the students are told what to create," [Hopper] said. "Science is a creative process, not an absolute thing."
Hopper wants Intelligent Design taught in classrooms, but hasn't yet been able to find an example of it being successfully legislated into schools…
Um, maybe that's because there isn't a shred of real evidence to support such a theory and one might even make the claim that Intelligent Design is one step short of a guess.
He then attempts to tug on the heartstrings by claiming to care about the students' sense of purpose in life.
"But more and more scientists are coming to the conclusion that it was not even remotely possible that it happened by accident. I want to introduce children to the idea that they have a purpose for being here."
Thank goodness there is at least one voice of reason out there. Eugenie Scott, Executive Director of the National Center for Science Education, speaks out:
"Yes, it is the case that scientific explanations change with new data, but at some point you reach the stage where there is an agreement among scientists… You're not improving science education for young people by pretending that well-established ideas are up for grabs. The idea of evolution, that living things have common ancestors, is not being challenged in science today," she said.
She added that Bergevin's bill "should be obviously unacceptable to legislators on its face. They ought to be able to see pretty quickly that this bill is just silly."
Oh, how I hope Scott is right.
This topic goes round and round, with a different ringleader each time and usually — hopefully — the same results. Intelligent design has no place being taught in public schools and is, at best, a farfetched and highly implausible theory that counters everything that science represents (and not in an "intelligent" and challenging kind of way). Let's hope common sense and reason are plentiful in New Hampshire on voting day.