In case you missed it, the Freedom From Religion Foundation placed this full-page ad (read: $$$) appeared in today's New York Times to mark the Winter Solstice: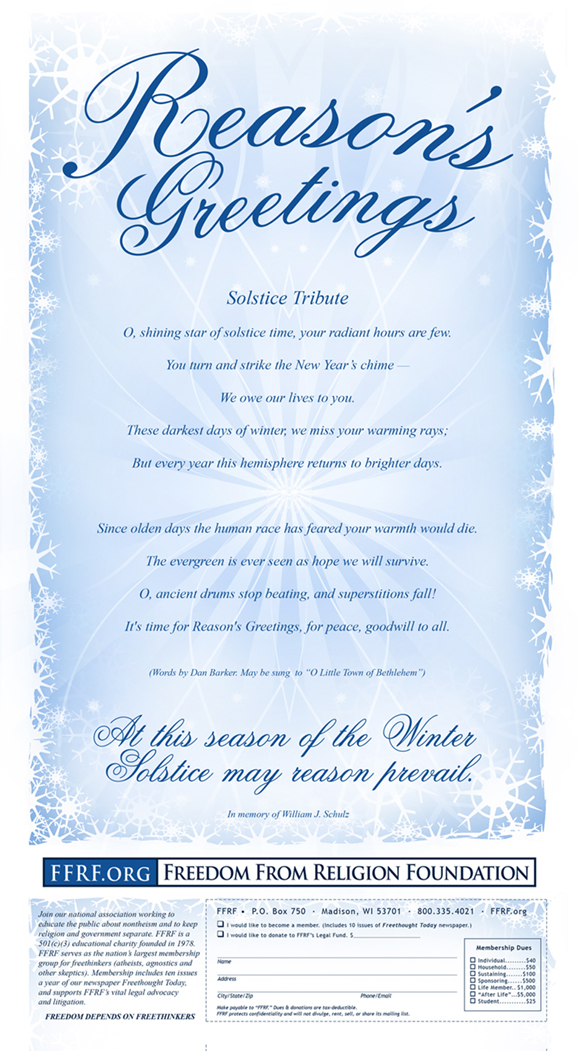 The question is whether the donations and publicity resulting from the ad will make up for its cost. Knowing the FFRF, they wouldn't do something like this unless it did.
…
Bill Donohue (a.k.a. The Catholic League) responds by calling FFRF "Parasites of Christmas":
There is a silly full-page ad in today's New York Times by the atheists from Freedom From Religion Foundation called, Reason's Greetings. The "Solstice Tribute" is appropriately vacuous, but what got our attention was the caveat at the end of the lyrical statement: it says, "May be sung to 'O Little Town of Bethlehem.'" In other words, "Rock Around the Clock" won't suffice. Sorry Brenda.

The good news is that these secularists cannot survive without parasitically feeding off Christmas, thus giving us Christians a back-handed compliment. We'll take it.
Yep. Back-handed compliment. That's what that was…