St. Matthew-in-the-City church in Auckland, New Zealand is notorious for their fantastic billboard campaigns and their most recent one was right up there in terms of controversy:
Not a bad visual, right? Some might say it defeats the notion of a virgin birth, but the church says the ad puts the focus on a "real baby and a real mum." I'll give them credit for getting a good discussion going.
Unfortunately, the billboard didn't last very long… it was vandalized on Saturday by another Christian group.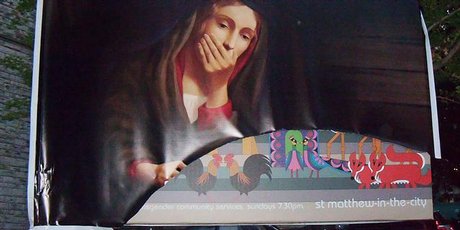 The billboard… was slashed by scissor-wielding Catholic Action Group member Arthur Skinner yesterday, who led today's service outside the St Matthew-in-the-City Anglican church, which was responsible for the image.

He said he would destroy the billboard again if it was replaced.

"This is Satanic, this is the ultimate Satanic attack, when Lucifer attacks his worst enemy, the Blessed Virgin.

"This particular church — so called — is run by a gay, feminist-type lobby. They claim to be Christian and yet they put up a blasphemous image of the Blessed Virgin, attacking her virginity and the fact that she was the mother of Christ, the God-Man."
… and I think that statement tells us everything we need to know about Skinner's sanity. (Though his beliefs are really no different from most other Christians who also believe in the Devil and a Virgin birth.)
You would think, though, for a man who claims to love Jesus so much, it wouldn't make sense for him to rip off the one part of the poster that symbolizes his birth.
At least the backlash has been swift. Even the Catholic Church distanced itself from Skinner's group:
Catholic Church spokeswoman Lyndsay Freer told the Herald on Sunday the Catholic Action Group had "absolutely nothing" to do with the mainstream Catholic Church.

"I have been critical of the poster, but the last thing we would want to do would be anything destructive," she said.
I don't know how the Catholic Church gets away with calling another group destructive (pot, meet kettle), but I share their sentiment on this one. Criticize the ad all you want, but there's no reason to resort to vandalism.
(via One Furious Llama)