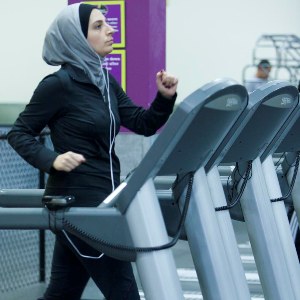 TLC's All-American Muslim is a reality show depicting five Lebanese-American families in Dearborn, MI. I haven't seen it, but this review from Entertainment Weekly's Ken Tucker sure makes it sound harmless:
These "characters" are all reasonably appealing, either charming or entertainingly irritating in the tradition of reality TV, though the show is edited at a snail's pace. All-American Muslim centers on explaining customs and beliefs, and how the people the producers have selected either follow or ignore their religion's dictums.
Despite that, The Florida Family Association — a group promoting "traditional, biblical values" — sees a darker purpose behind the series:
All-American Muslim is propaganda clearly designed to counter legitimate and present-day concerns about many Muslims who are advancing Islamic fundamentalism and Sharia law. The show profiles only Muslims that appear to be ordinary folks while excluding many Islamic believers whose agenda poses a clear and present danger to liberties and traditional values that the majority of Americans cherish.
The group called for an e-mail campaign pressuring the show's advertisers pull their spots. At least one company caved under the pressure.
Lowe's acknowledged pulling commercials from "All-American Muslim" following consumer complaints, but denied they came from one group.

"We understand the program raised concerns, complaints, or issues from multiple sides of the viewer spectrum, which we found after doing research of news articles and blogs covering the show," said Katie Cody, a Lowe's spokeswoman.
The denial that Florida Family Association was the primary influence behind the decision seems dishonest, considering that Lowes sent an e-mail to the group's Executive Director informing him of the decision.
But I can understand why Lowe's wants to avoid the taint that any association with FFA would produce. In addition to their annoyance at any show of tolerance towards Muslims, they also freak out about the growing acceptance of homosexuality. Right now, they are particularly disgusted by Gay Day at Disney World and the Teen Nick show Degrassi, which features LGBT characters. But the backlash is happening anyway. As of this writing, the #LowesHatesMuslims Twitter hashtag is attracting multiple messages every minute.
Though Muslims and atheists certainly have some stark disagreements, I think it's important for us to take stands against sectarianism in all of its forms. The fears FFA are expressing are irrational and contrary to the evidence that American Muslims (who represent less than 1% of the population) tend to be moderate and participate positively in American life. And the type of rhetoric used against them is largely the same as that used against against gays and secularists.