It was bad enough last year when the Ellwood City Municipal Building allowed a nativity scene out front without any other holiday displays to buffer it. It was an outright endorsement of Christianity.
After complaints last year from groups like the Freedom From Religion Foundation, Mayor Anthony Court opened the door to displays from non-Christian groups as well. He even invited FFRF to submit their own display. The property currently hosts a crèche, a Santa scene, a snowman, Kwanzaa posters, and a Hanukkah menorah.
FFRF took Court up on his offer (PDF) by sending him their Banner-o-Christmas-Cheer: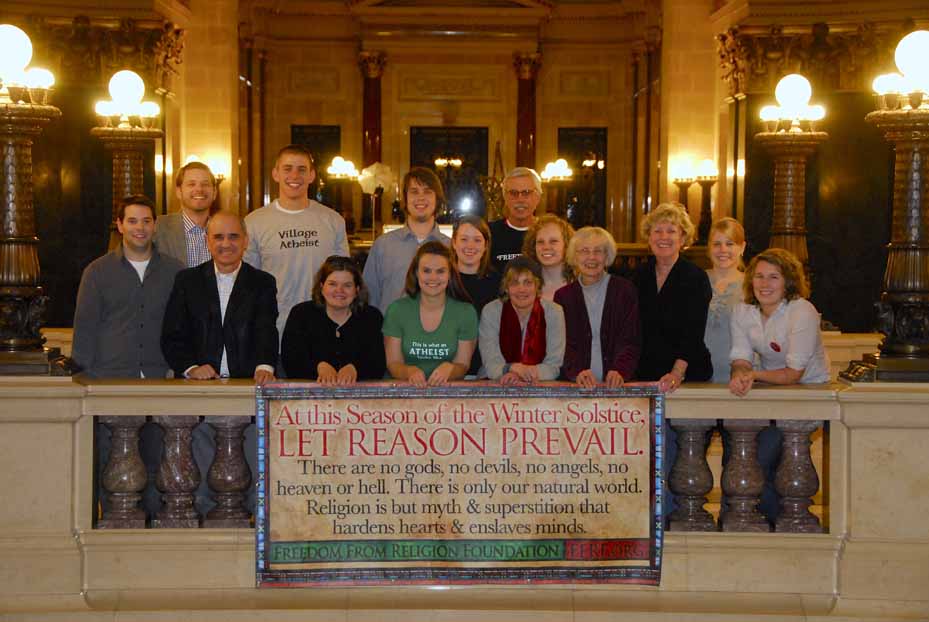 "At this season of the Winter Solstice, may reason prevail.
There are no gods, no devils, no angels, no heaven or hell.
There is only our natural world.
Religion is but myth and superstition that hardens hearts and enslaves minds.
Freedom From Religion Foundation"
Hey, if Christians can tell the world you're going to hell if you don't accept Jesus, why can't an atheist group say that the story's a myth?
Mayor Court didn't like the banner, though, and he flatly rejected it:
"I believe [the banner] violates the First Amendment. It's endorsing atheism," the mayor said. The creche "is a statue. It's not a doctrinal statement."

…

[Annie Laurie] Gaylor, co-president of the Freedom from Religion Foundation, said she hadn't seen this year's modified display but considered her group's banner a necessary addition.

"The mayor invited us to put up our own display, and we are taking him up on it," she said. "We wrote this as a repudiation of the manger scene. The manger scene is a doctrinal statement. … If you don't believe that baby is your lord and savior, according to Christian tradition and hymns sung at this time of year, then you are not saved."

This about inclusion or exclusion of all views. You can't pick and choose which religions get promoted by the government. It's a sloppy mess to allow all beliefs systems in and FFRF is just capitalizing on that, while highlighting the prejudice that comes with pushing an atheist viewpoint. The city would be better off leaving government properties religion-free, but until they do that, they need to allow all displays in.
Meanwhile, in an act showing how badly they don't understand the issue, Christians rallied in front of the Nativity Scene on Friday because they thought atheists were coming to protest it and take it down:
(Note the poster with Dan Barker's face at the 0:17 mark.)

The FFRF doesn't want to remove the Nativity Scene. They love the Nativity Scene. It gives them the opportunity to put up their own displays right next to them, getting their views to a broader public. The problem occurs when a mayor who doesn't know how the law works decides that Christians deserve a spot on government property and atheists don't.