Fresh off their ripping-up-photocopied-Bible-Verses publicity stunt, Bruce Gleason and the Backyard Skeptics have put up two billboards in the Orange County area.
The first one encourages readers to reject all religious superstitions (not just everyone else's):
Good luck reading all that while you drive…
It's reminiscent of the "Extraordinary Claims" campaign that went up in Canada last year:
The second billboard the Backyard Skeptics are putting up has a simple message on it: "Faith has no answers. It only impedes questions."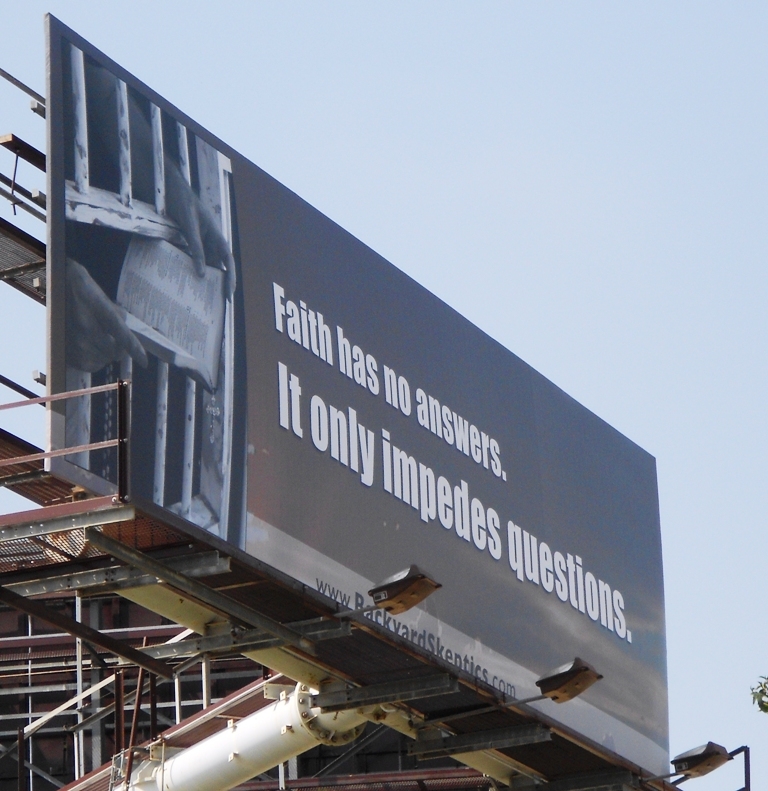 That one is essentially a carbon copy of a billboard that went up in Brazil a couple months ago:
"Faith gives no answers. It only impedes questions."
Unlike their previous billboards which were positive proclamations about atheism, these go directly after religious thinking. That may get them more publicity, but they're also running the risk of saturating local media with themselves. This many events, so close together, may dilute the very message they want to get out. That's not a huge worry — just something to consider.
It's pretty clear, though, that the BYS have made a decision to go from positive, friendly activism to more "aggressive," in-your-face activism. It may pay off (publicity-wise) in the short-run, but I'm curious how many potential members are backing away from their group because of the recent events.
(via Los Angeles Atheism Examiner)
***Update***: The Christian Post is already complaining about the first billboard, with the headline:
Calif. Atheist Billboards Lump Magic Underwear, Voodoo With Salvation

…

Listed underneath the proclamation are 36 different references to Christianity, other religions, and cults. Included in the list are: "Talking Snakes," "Burning Bushes," "Resurrection," "Salvation," and "Sin."

Lumped in with the Christian references are "Voodoo," "Magic Underwear," "Astrology," and "Hand of Fatima."