Haven't we learned anything from The God Delusion?
Weren't we all supposed to have our consciousness raised?
Don't we know that TV shows shouldn't be given a religious (or non-religious) label before it's ready to make that decision on its own?!
We have to stop mentally abusing these TV shows…
So get this right: Ricky Gervais' new show Afterlife is not an "Atheist Comedy." It's a comedy that features an atheist character.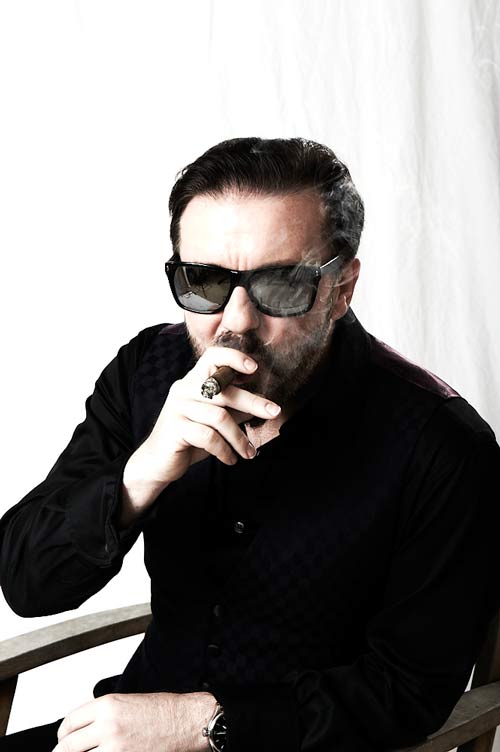 Memo to publications with a religious bent: Don't dismiss the show because you assume it's about promoting atheism. Gervais elaborates:
I can't win. 'The Invention of Lying' proposed an alternative world where there was no God. That was an atheist comedy too. Seems the existence or non-existence of God in my work has no bearing on whether it's an atheist comedy or not. It just is. Because I wrote it right? That's so weird.

I love 'It's a Wonderful Life'. I'm not threatened by its premise. I don't start shouting, "Religious propaganda!… How dare they assume that heaven and angels exist?" It's a work of fiction. And a great one.

…

Here's what I suggest you do; wait till 'Afterlife' is finished then watch it. Or not. But if you watch it then you're allowed to have an opinion. You can gladly slag it off. You can start a campaign to get it banned. You can hate it. And trust me, it's so much more fun saying you hate something once you've actually seen it.

So, please wait, watch and find out if it's controversial or inflammatory first, yeh?

Anyway, I play God…

…

… [God] thinks he's the best thing ever because… well, he is. (He invented sliced bread by the way.) He also loves welcoming atheists to heaven with a smug grin on his face.

He likes atheists deep down though. Or rather he likes good atheists. He admires the fact that they were moral people even though they didn't believe they would ever be rewarded with everlasting life.
Still sounds like a pretty awesome show…