It was only a week ago that billboards featuring atheists "coming out of the closet" in Columbus, Ohio went up.
Believe it or not, a church complained about one of them — and because of their complaint, the billboard is being moved to another location.
Are you shitting me?!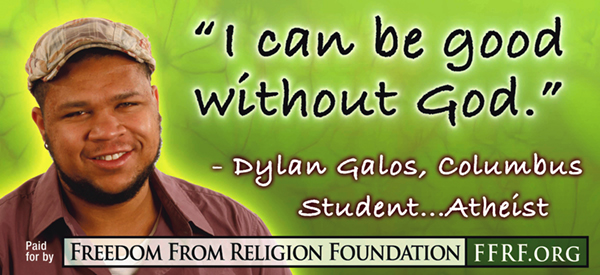 The Freedom From Religion Foundation, which sponsored the ads, can't believe it, either :
A billboard featuring a cheerful student saying, "I can be good without God," was too much for the delicate sensibilities of a local church in Columbus, Ohio, which insisted late last week that a local billboard company remove the message.

The billboard picturing Dylan Galos, a Columbus student and atheist, was removed and is awaiting placement at an alternate eastside Columbus location.

…

"The action of this censorious church shows exactly why our campaign, intended to encourage social acceptance of nonbelievers, is so important," said Annie Laurie Gaylor, FFRF co-president.

…

Added Dan Barker, a former evangelical minister who co-directs FFRF, "Everywhere atheists and agnostics go, we encounter advertisements, marquees and other proselytizing messages. This is one of the few public advertisements anywhere in the nation right now, and there isn't room for it next to a church?"
I want to know what church complained and I want to know what the nature of their complaint was. Because I can't think of a single good reason they could possibly have against this sign. I also want to know which advertising agency took the billboard down because of the complaint — why are they so quick to act when one group of people makes an unnecessary and unreasonable request?
There is absolutely nothing offensive about this billboard. It's not attacking Christians. It's not insulting Christianity. It's Dylan stating that he can be good without god.
Or does that go against everything this church teaches?
It just shows that the mere mention of atheism, and the idea that atheists exist (and we're good people!), is too much for some Christians to handle.
That's why we need to keep "coming out of the closet" and asserting our beliefs.
***Update***: The church in question has admitted to having the billboard removed. You can read more about that here.