The New York Times has a great article on the front page of Tuesday's paper about how atheist groups are trying to get a non-theist into the chaplain corps:
Joining the chaplain corps is part of a broader campaign by atheists to win official acceptance in the military. Such recognition would make it easier for them to raise money and meet on military bases. It would help ensure that chaplains, religious or atheist, would distribute their literature, advertise their events and advocate for them with commanders.

But winning the appointment of an atheist chaplain will require support from senior chaplains, a tall order. Many chaplains are skeptical: Do atheists belong to a "faith group," a requirement for a chaplain candidate? Can they provide support to religious troops of all faiths, a fundamental responsibility for chaplains?

Jason Torpy, a former Army captain who is president of the Military Association of Atheists and Freethinkers, said humanist chaplains would do everything religious chaplains do, including counsel troops and help them follow their faiths. But just as a Protestant chaplain would not preside over a Catholic service, a humanist might not lead a religious ceremony, though he might help organize it.

"Humanism fills the same role for atheists that Christianity does for Christians and Judaism does for Jews," Mr. Torpy said in an interview. "It answers questions of ultimate concern; it directs our values."
The article also mentions the Fort Bragg Rock Beyond Belief controversy as well as the biased "Comprehensive Soldier Fitness" survey which assessed soldiers in part on their "spirituality."
There may be tens of thousands of atheists in the military — you'd never know from the demographic numbers because they're all lumped in under "no religious preference" — but there are no chaplains for that population.
MAAF offers this incredibly helpful visual on its site (click image to enlarge):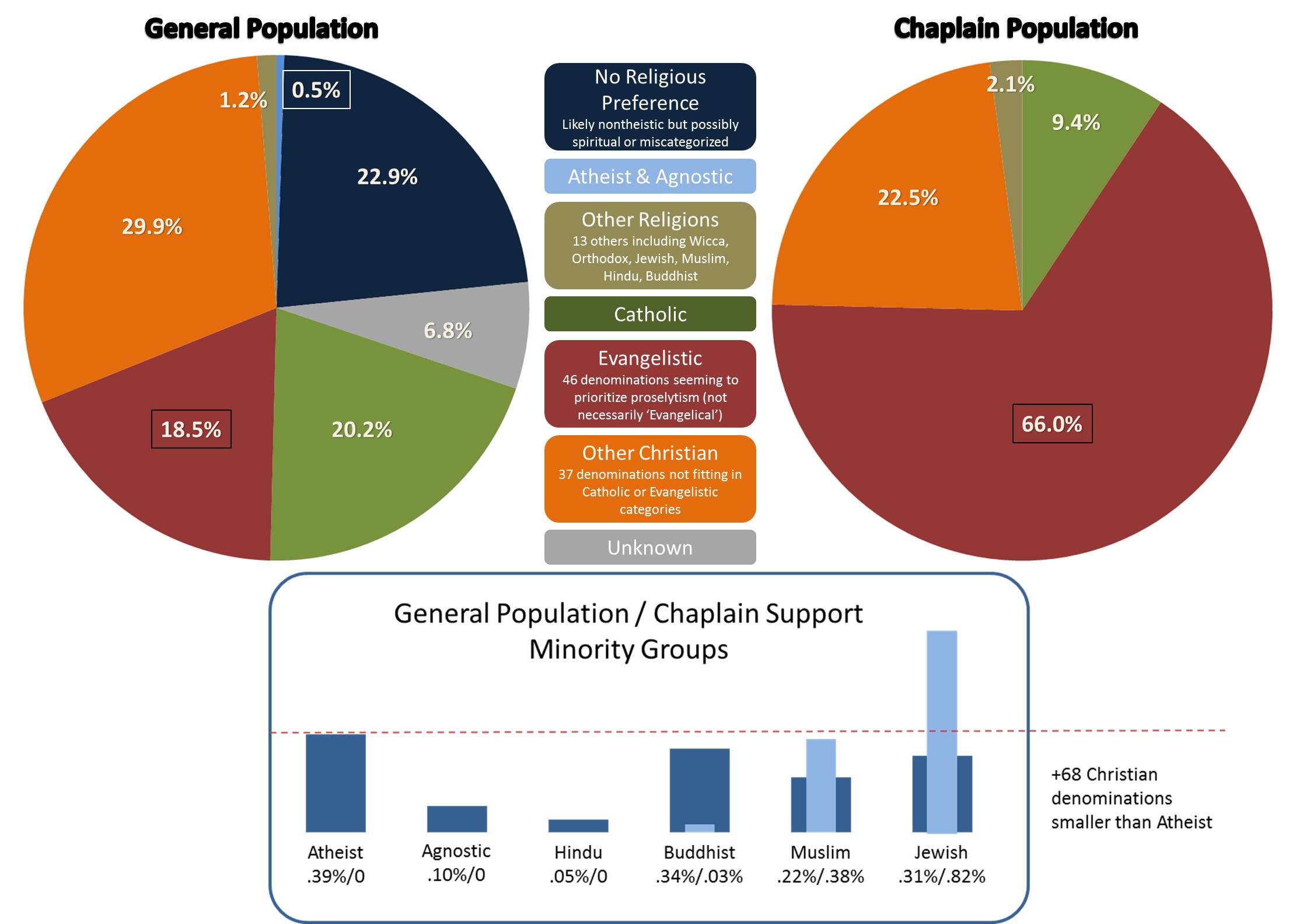 The discrepancy is incredible.
The military hasn't issued any statements regarding why there are no Humanist chaplains in their ranks — maybe because there's just no good reason to deny them and the injustice has continued for so long. And once you let the first one in, others will follow.
It would only make our military stronger, though.
It looks like the Christian stronghold on our military is trying to prevent the status quo from changing, regardless of how many soldiers a Humanist chaplain would benefit.