The Wall Street Journal knows exactly what to do when there's a religious holiday coming up: Have Ricky Gervais write an article about it. It worked incredibly well last Christmas, and now he's back for Easter.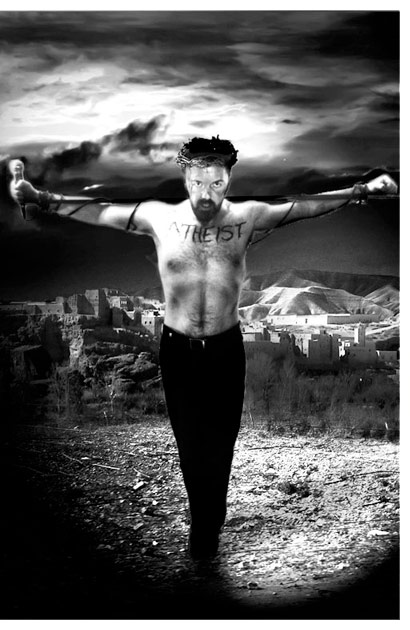 This time, he's talking about why he's a better Christian than… well… most Christians.
Because he actually follows the Ten Commandments:
ONE

'You shall have no other gods before Me.'

I definitely do not. Excellent. I get one point.

TWO

'You shall not make for yourself a carved image – any likeness of anything that is in heaven above, or that is in the earth beneath, or that is in the water under the earth.'

This basically means don't make or worship a religious statue or bow to it thinking that it's holy. Tick. Another point to me.
Besides the jokes, though, he actually has a decent message. A message we've all heard before, sure, but one that carries a little more weight since it comes from a celebrity and that's the way our society works:
Jesus was a man. (And if you forget all that rubbish about being half God, and believe the non-supernatural acts accredited to him, he was a man whose wise words many other men would still follow.) His message was usually one of forgiveness and kindness.

These are wonderful virtues but I have seen them discarded by many so-called God-fearers when it suits them. They cherry pick from their "rulebook" basically. I have seen such cruelty and prejudice performed in the name of Christianity (and many other religions for that matter) that it makes me wonder if there has been a bit too much selective reading and reinterpretation of the doctrines.

God or not, if I could change one thing for a better world, it would be for all mankind to adhere to this little gem: "Let he who is without sin cast the first stone." I assure you, no more stones would ever be thrown.
I can't wait to read what he writes for Ramadan.