If you're wondering what to get your atheist friend for her next birthday (or whatever), here's an idea: the Freedom From Religion Foundation is now offering fancy, frameable, embossed DeBaptismal certificates!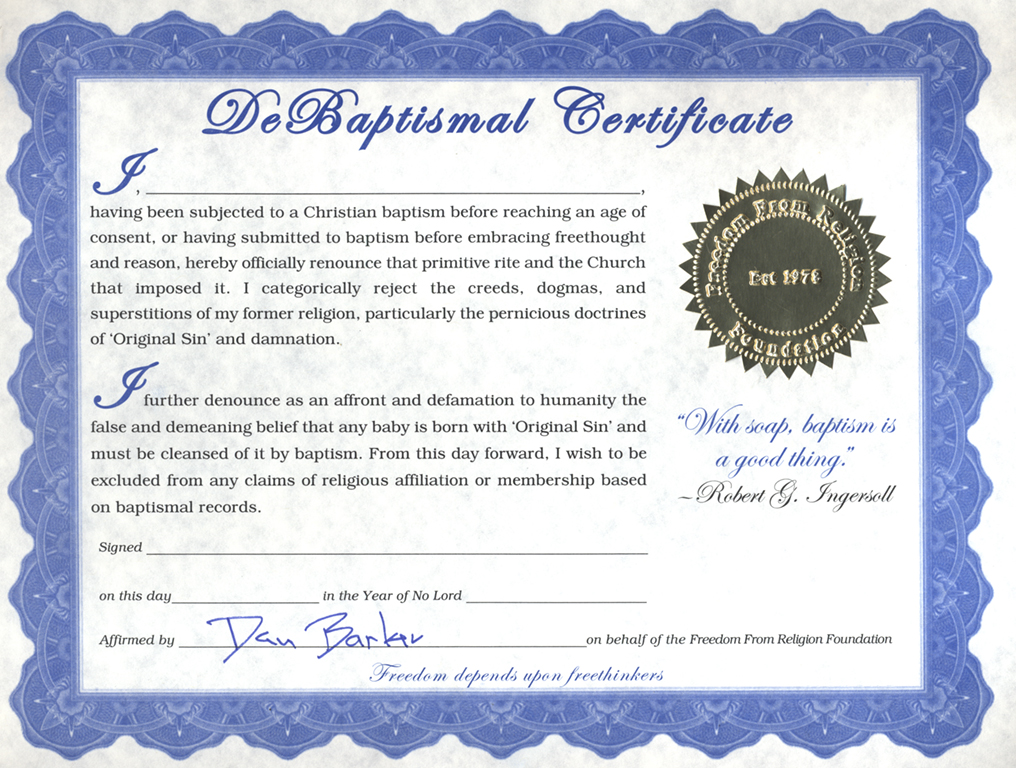 The certificate reads:

"I, having been subjected to a Christian baptism before reaching an age of consent, or having submitted to baptism before embracing freethought and reason, hereby officially renounce that primitive rite and the Church that imposed it. I categorically reject the creeds, dogmas, and superstitions of my former religion, particularly the pernicious doctrines of 'Original Sin' and damnation.

"I further denounce as an affront and defamation to humanity the false and demeaning belief that any baby is born with 'Original Sin' and must be cleansed of it by baptism. From this day forward, I wish to be excluded from any claims of religious affiliation or membership based on baptismal records."

…

"Although our DeBaptismal Certificate has some light touches, we think it's time to spur some serious public debate over the meaning of baptism," FFRF Co-President Annie Laurie Gaylor added. "We would like to remind the public that people have been killed, schisms fostered and 'holy' wars sparked over debates on when to baptize and how to 'sprinkle' babies. Childhoods and peace of mind are still being blighted today by ignorant and vicious sermons promising hell and damnation as a punishment for not being baptized.

"It should be utterly repugnant to people of conscience to tarnish newborns with the idea of 'original sin' or to subject any child or young person to this primitive ritual."
You can purchase your certificate by going here.
I wonder if the certificate applies to people like me… can you be debaptizes if you were never baptized in the first place…?
If you don't want to spend money on this, you can always take the easier route and debaptize yourself with a hair dryer!