***Update***: American Atheists has issued a more official statement:
… American Atheists does NOT support or condone any activity that results in vandalized property, either openly or secretly. We do not giggle about this under our breath or behind closed doors, because it's not funny, it's not clever, and it's not cool.

Freedom goes both ways. If we are to defend our right to free expression, we must do the same for others, even when they disagree.
Also, commenter jenea adds:
I got a response from the American Humanist Association. Apparently they called the billboard company and offered to pay for a replacement, but no word yet from the church.
…
American Atheists garnered a lot of publicity for this billboard they put up near the Lincoln Tunnel a couple months ago:
When it was time for that billboard to come down, this is the one that took its place: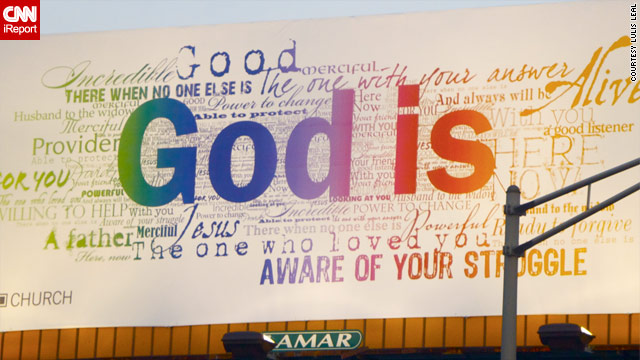 Unfortunately, that "God Is…" Christian billboard has suffered the same fate as many of our atheist billboards.
*sigh*
What the hell.
There's no evidence of who did this, but I hope this isn't some atheist's idea of a funny joke.
I hope the Christians of Times Square Church get the billboard replaced for the remainder of its lifetime at no cost to them.
I would love to see atheist groups like FFRF, American Atheists, and the American Humanist Association — groups that put up billboards and/or have them vandalized all too frequently — issue formal statements condemning this action.
It's a kind gesture, it's a show of support for free speech, and (honestly) it's something that's so easy to do, I'm surprised they haven't done it already.
(AA has said they don't condone this action on their Facebook page, but that's not official enough for me.)
I sent an email to the church asking how they planned to address the situation and I'll let you know if I get a response.
(via Hugh Kramer)